Our mission
Based on a variety of modelling efforts and the knowledge of key actors, we will explore possible adaptation measures and derive recommendations on governance in order to reduce the risk of tipping point impacts on the regional economy and increase the resilience of Peru's coastal communities.
Work and study with us
The interdisciplinary orientation of the project offers students and doctoral students from various disciplines the opportunity to write their thesis in one of the relevant fields. The DAAD's PROMOS programme offers support for research stays as part of the Bachelor's or Master's thesis.
Call for Abstracts for international symposium of "Small Pelagic Fish: New Frontiers in Science for Sustainable Management"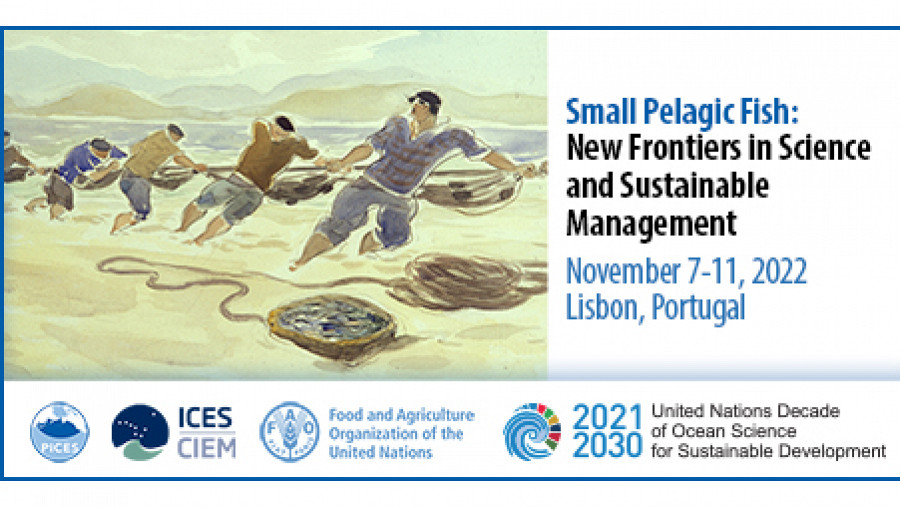 May 22, 2022 is the early registration,  abstract submission and financial support application deadline for the international symposium on "Small Pelagic Fish: New Frontiers in Science for Sustainable Management",  to be held November 7-11, 2022, in Lisbon, Portugal.
During the last four decades, coordinated, global research efforts (see tab on History of Global Collaboration on SPF) have targeted these and other topics, yielding important comparative analyses and highlighting key gaps in our knowledge. For example, global analyses revealed oscillations in the productivity of SPF populations linked to climate variability on various (seasonal to multi-decadal) scales that have resulted in dramatic consequences for ecological and human communities. The exchange of information and ideas drawn from comparing populations across the globe can be particularly insightful as we seek to improve management strategies.
Substantial scientific progress continues to be made on understanding the drivers and dynamics of SPF in ecosystems across a range of spatial and temporal scales. The integration of numerical models with ever-growing data from monitoring efforts and stock assessments has enabled more comprehensive consideration of hypotheses describing SPF population variability. Additionally, the rapid development of new methods like eDNA, machine learning, and genome analysis to ascertain population structure can offer new insight to long-standing questions. The application of various regional management strategies and approaches to studying coupled social-ecological systems in collaboration with industry and other stakeholders is ripe for comparative research.
The international symposium on "Small Pelagic Fish: New Frontiers in Science for Sustainable Management" will highlight the state-of-the-art in these and other topics related to the ecology and sustainable management of SPF. The symposium complements collaborative research conducted by the joint ICES/PICES Working Group on Small Pelagic Fish and is relevant to the goals of the UN Decade of Ocean Science for Sustainable Development, particularly "to bolster scientific research for a sustainably harvested ocean ensuring the provision of food supply."
This is a reminder that May 22, 2022 is the early registration, abstract submission and financial support application deadline for the international symposium on "Small Pelagic Fish: New Frontiers in Science for Sustainable Management", to be held November 7-11, 2022, in Lisbon, Portugal. The meeting is plannedas an in-person meeting.
You can find more information on the conference and on the program (sessions & workshops) here:
https://meetings.pices.int/meetings/international/2022/pelagic/program
How Important are Social Networks in Times of Environmental Crises?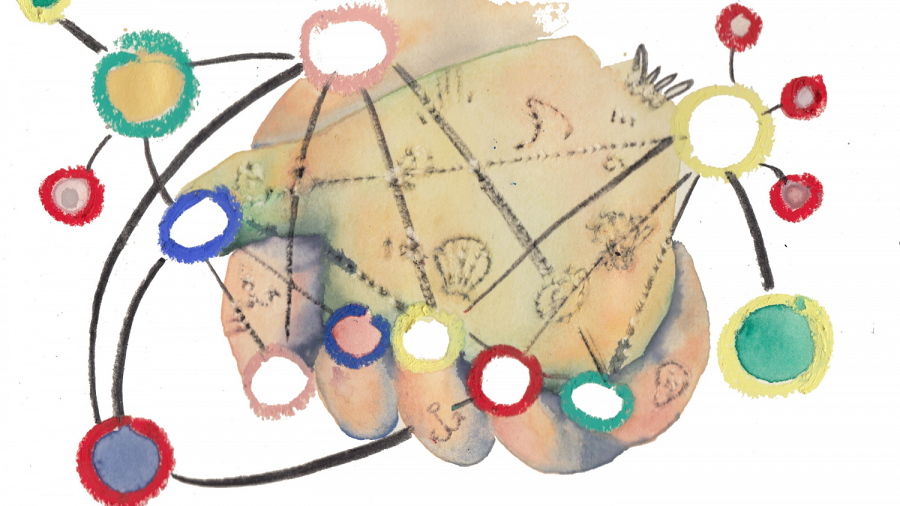 Social Networks Artwork by SebastianKemeler.com
New publication by Michael Kriegl et al. in Social Science Open Access Repository (SSOAR)
We provide insights into two examples of ongoing research that investigate the role of fishers and farmers' social networks when dealing with and recovering from environmental disasters that brought drastic change to their respective communities in Peru and Bangladesh. Our findings indicate that the number and diversity of connections is crucial for coping with crises, and suggest the need for further research on the ways social networks are shaping individual and community responses to environmental impacts.
Original publication:
Kriegl, M., Kluger, L. C., Holzkämper, E., Nagel, B., Kochalski, S., & Gorris, P. (2021). How Important are Social Networks in Times of Environmental Crises? easy social sciences, 66, 11-20. https://doi.org/10.15464/easy.2021.007
Find the publication here:
https://www.ssoar.info/ssoar/handle/document/76109
New short film online about the nitrogen cycle and potential tipping points in the Humboldt Current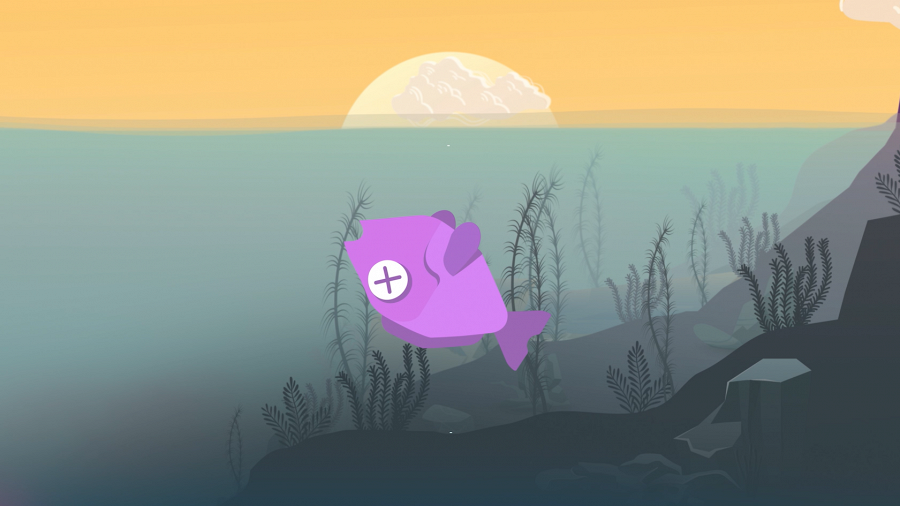 Latest project clip now available on Youtube
Some microbes, called nitrogen fixers, can access nitrogen gas dissolved in seawater and convert it into a form that other phytoplankton can use. This may return some of the lost nitrogen to the Humboldt Upwelling System and potentially keep the nitrogen cycle in balance.
Scientists from Germany and Peru are working together to understand why the nitrogen deficit is not replenished by nitrogen fixation. These results will be used to predict the effects of climate change on the nitrogen cycle and its possible consequences for the productivity of the Humboldt Upwelling System in the future.
Find the movie on our youtube channel in a Spanish, English and German version:
https://www.youtube.com/watch?v=r5NEruCR4AE
For further information please contact:
Center for Ocean and Society
Christian-Albrechts-Universität zu Kiel
Neufeldtstraße 10
24118 Kiel
Germany
Species shift due to tipping point in Humboldt Current off Peru.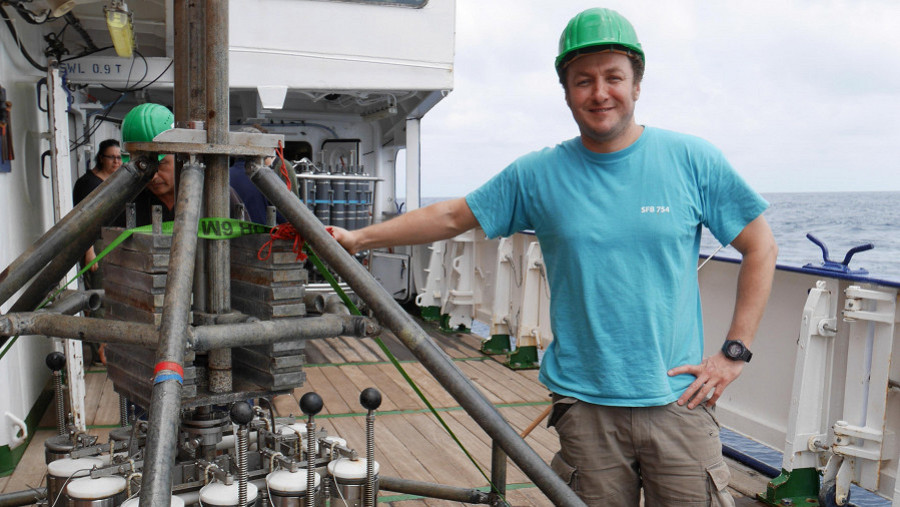 First author Dr. Renato Salvatteci taking samples on board of the research vessel Meteor during an expedition off Peru. © Martin Visbeck, GEOMAR
Researchers reconstruct link between ocean warming and shift to smaller fish species using sediment samples from Humboldt Current area
The sea off the west coast of South America is now one of the most vital and productive fishing grounds on earth. About eight percent of the global marine catch comes from the areas off the coasts of Peru, where the near-surface Humboldt Current provides a high nutrient supply and thus sufficient food for commercially exploited fish species such as the anchovy. Ten percent of the total global catch of anchovy alone comes from the region. Much of it is processed into fish meal and oil and fed primarily to aquacultures in China and Norway. However, catches of anchovy in the Humboldt upwelling system are currently declining significantly, while smaller schooling fish such as goby are increasing. The reasons for the shift in species are still unclear and are the subject of the current study.
Researchers from the Institute of Geosciences at Kiel University, together with colleagues from GEOMAR Helmholtz Centre for Ocean Research and international partners, have for the first time investigated the relationships between temperature, oxygen content, nutrient supply and the occurrence of individual fish species using paleo-oceanographic data from the Humboldt Current area. The scientists focused on the older warm period about 125,000 years ago (Eemian interglacial). During this time, conditions were similar to those predicted by climate projections (e.g., the IPCC report) for the end of the 21st century at the latest: i.e., comparable primary production, but water temperatures two degrees Celsius higher than today and increased oxygen deficiency in intermediate water depths.
For their paleo-oceanographic studies, the scientists at Kiel University primarily analyzed small fish eddies that they were able to isolate from sediment cores. According to the results, smaller, goby-like fish predominated in coastal waters during the older warm period, while anchovies made up only a small proportion. Fish with smaller body sizes can adapt better to warmer temperatures. They maintain their high activity levels even in less oxygenated waters thanks to their larger gill surface area relative to their body volume.
"The conditions of this past warm period, which we were able to reconstruct from our samples, can definitely be compared to the current development and put in context with future scenarios," says first author of the study, Dr. Renato Salvatteci, who is currently conducting research at the Center for Ocean and Society of the Kiel Marine Science (KMS) research center at Kiel University in the BMBF-funded Humboldt-Tipping project. "According to this, there is a clear regime shift toward smaller fish that are more comfortable in the warm, lower-oxygen conditions. We conclude from our results that the effects of human-induced climate change may have a stronger influence on the evolution of stocks in the region than previously thought," Salvatteci added. Smaller fish are harder to catch and less palatable. According to the report, the impact on the Peru region, local fisheries income and global trade in anchovies could be far-reaching - potentially affecting global food security.
"Our studies based on the sediment cores can give us fairly accurate information about the changes and their dynamics in highly productive coastal waters worldwide that have occurred in the wake of different climate states and over different time scales," explains Professor Ralph Schneider, a paleoclimate researcher at the Institute of Geosciences at Kiel University and co-author of the study.
Due to increasing warming in the Humboldt Current upwelling region, the researchers believe the ecosystem is heading toward a tipping point, beyond which anchovy will begin to retreat and no longer dominate nearshore fishing grounds. "Despite a flexible, sustainable and adaptive management strategy, anchovy biomass and landings have declined, suggesting that we are closer to the ecological tipping point than suspected," summarizes lead author Renato Salvatteci. The results help to better assess the extent to which a warming ocean can provide sufficient food for the world's population and what changes humanity should expect for the development of important fish species such as the anchovy.
The study was funded by the Collaborative Research Center (SFB) 754 "Climate-Biogeochemical Interactions in the Tropical Ocean," a cooperative project of Kiel Christian Albrechts University (CAU) and GEOMAR Helmholtz Centre for Ocean Research Kiel. Additional support came from the BMBF project Humboldt-Tipping, coordinated at the Center for Ocean and Society, as well as funding from the Emmy-Noether Junior Research Group ICONOX at GEOMAR. First author Renato Salvatteci was also supported by a fellowship from the Alexander von Humboldt Foundation.
Original publication:
Renato Salvatteci, Ralph R. Schneider, Eric Galbraith, David Field, Thomas Blanz, Thorsten Bauersachs, Xavier Crosta, Philippe Martinez, Vincent Echevin, Florian Scholz, Arnaud Bertrand, "Smaller fish species in a warm and oxygen-poor Humboldt Current System".
https://doi.org/10.1126/science.abj0270
Links
https://humboldt-tipping.org/en
https://www.geomar.de/forschen/fb2/fb2-mg/iconox
https://oceanandsociety.org/de/teammitglieder/dr-renato-salvatteci
Presentation at the Marine Sustainability Conference -SNP by Dr. Renato Salvatteci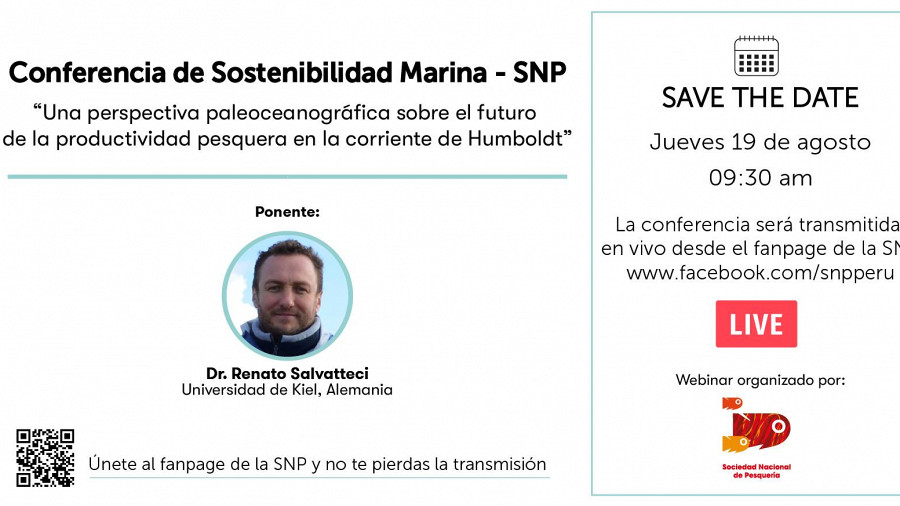 Future of fishery productivity in the Humboldt Current: A paleoceanographic perspective.
New publication online: Zooplankton mortality effects on the plankton community of the northern Humboldt Current System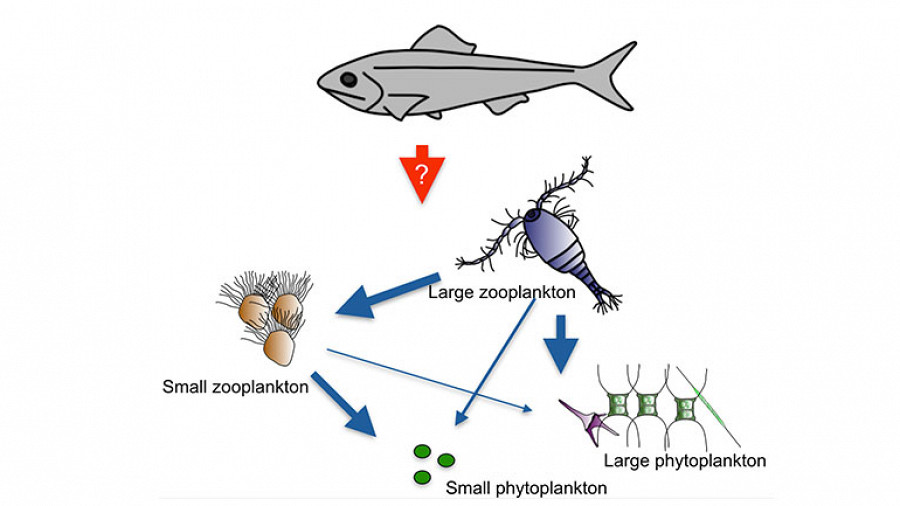 Interactions of the plankton communitiy in the Northern Humboldt Current system.
Sensitivity of a regional biogeochemical model
We used a computer simulation, or "model" of the eastern tropical South Pacific ocean to understand such effect. In our models we changed the mortality of zooplankton, microscopic organisms in the water, to mimic fish predation off Peru's coast. This is possible because small pelagic fish, such as anchovies and sardines, feed on these plankton. When there are a lot of fish, you can expect that the abundance of their prey, for example large zooplankton, is low and vice versa. This can have a top-down effect on their food webs, so on smaller zooplankton and phytoplankton.
The top predator in our model was large zooplankton, which is the main prey of anchovies. When we simulated low fish predation in our models (low mortality of zooplankton and, therefore, high abundance of large zooplankton), it had a large effect on the food web. This means that if there are less fish, large zooplankton can thrive. Because there is more larger zooplankton, their prey, small zooplankton and phytoplankton, decrease as more of them are eaten. When the opposite scenario was simulated, so more fish present and therefore fewer large zooplankton, the response was opposite, but weaker. As more large zooplankton were eaten, the smaller plankton increased.
Our study provides a first insight into how fluctuations of small pelagic fish could affect the plankton community of the NHCS. Our approach of changing zooplankton mortality allows us to understand the response of the system without the need of including a fish model. This reduces complexity and uncertainties in the model.
For further information please contact:
Mariana Hill- Cruz
GEOMAR Helmholtz-Zentrum für Ozeanforschung Kiel
Düsternbrooker Weg 20
24105 Kiel
Germany
mhill-cruz@geomar.de
Tel. +49 431 600-4270
Original publication:
Zooplankton mortality effects on the plankton community of the northern Humboldt Current System: sensitivity of a regional biogeochemical model
Mariana Hill Cruz1, Iris Kriest1, Yonss Saranga José1, Rainer Kiko2, Helena Hauss1,3, and Andreas Oschlies1,3