Our mission
Based on a variety of modelling efforts and the knowledge of key actors, we will explore possible adaptation measures and derive recommendations on governance in order to reduce the risk of tipping point impacts on the regional economy and increase the resilience of Peru's coastal communities.
Work and study with us
The interdisciplinary orientation of the project offers students and doctoral students from various disciplines the opportunity to write their thesis in one of the relevant fields. The DAAD's PROMOS programme offers support for research stays as part of the Bachelor's or Master's thesis.
Presentation at the Marine Sustainability Conference -SNP by Dr. Renato Salvatteci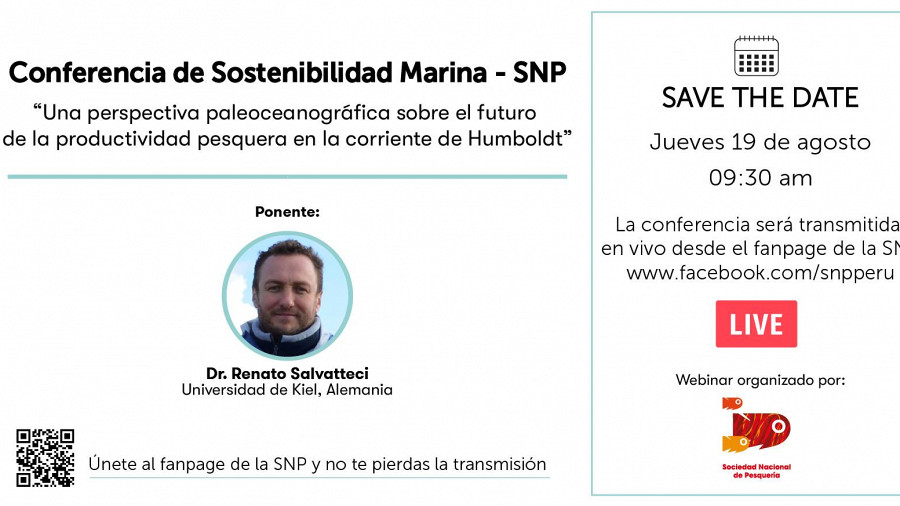 Future of fishery productivity in the Humboldt Current: A paleoceanographic perspective.
New publication online: Zooplankton mortality effects on the plankton community of the northern Humboldt Current System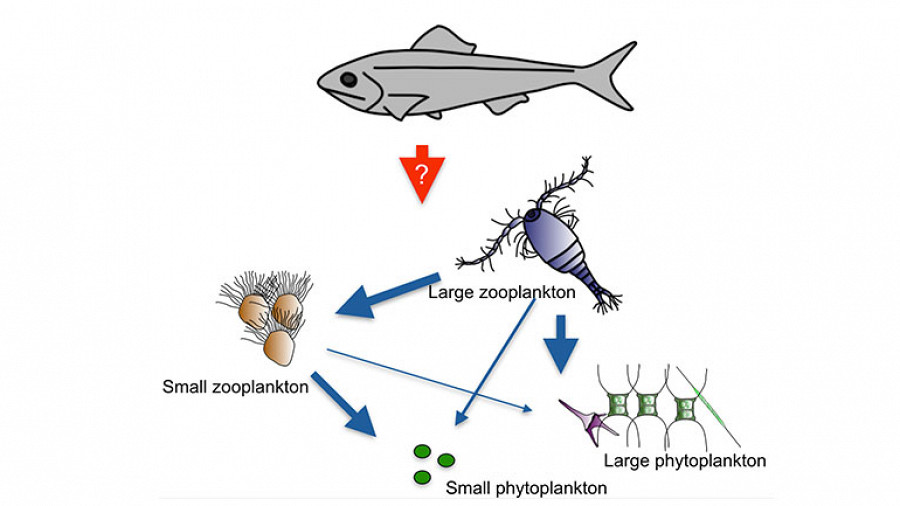 Interactions of the plankton communitiy in the Northern Humboldt Current system.
Sensitivity of a regional biogeochemical model
We used a computer simulation, or "model" of the eastern tropical South Pacific ocean to understand such effect. In our models we changed the mortality of zooplankton, microscopic organisms in the water, to mimic fish predation off Peru's coast. This is possible because small pelagic fish, such as anchovies and sardines, feed on these plankton. When there are a lot of fish, you can expect that the abundance of their prey, for example large zooplankton, is low and vice versa. This can have a top-down effect on their food webs, so on smaller zooplankton and phytoplankton.
The top predator in our model was large zooplankton, which is the main prey of anchovies. When we simulated low fish predation in our models (low mortality of zooplankton and, therefore, high abundance of large zooplankton), it had a large effect on the food web. This means that if there are less fish, large zooplankton can thrive. Because there is more larger zooplankton, their prey, small zooplankton and phytoplankton, decrease as more of them are eaten. When the opposite scenario was simulated, so more fish present and therefore fewer large zooplankton, the response was opposite, but weaker. As more large zooplankton were eaten, the smaller plankton increased.
Our study provides a first insight into how fluctuations of small pelagic fish could affect the plankton community of the NHCS. Our approach of changing zooplankton mortality allows us to understand the response of the system without the need of including a fish model. This reduces complexity and uncertainties in the model.
For further information please contact:
Mariana Hill- Cruz
GEOMAR Helmholtz-Zentrum für Ozeanforschung Kiel
Düsternbrooker Weg 20
24105 Kiel
Germany
mhill-cruz@geomar.de
Tel. +49 431 600-4270
Original publication:
Zooplankton mortality effects on the plankton community of the northern Humboldt Current System: sensitivity of a regional biogeochemical model
Mariana Hill Cruz1, Iris Kriest1, Yonss Saranga José1, Rainer Kiko2, Helena Hauss1,3, and Andreas Oschlies1,3
Virtual conference - a successful experiment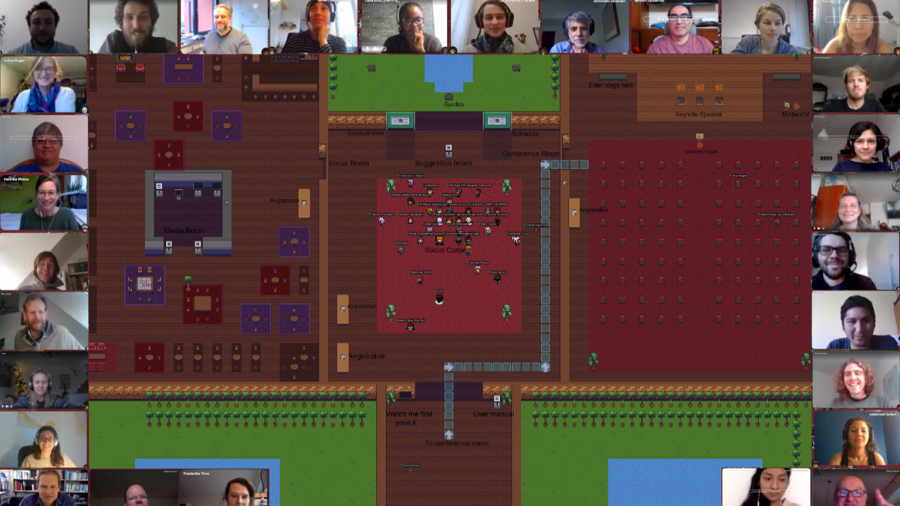 More than half of the conference´s participants from peru and Germany smiling for the virtual group picture
Although the preparation for a virtual format with a "real conference feel" was a challenge in itself, everything turned out well organized and smoothly running after some start-up difficulties on the first day to find one's way around in the virtual conference world.
The virtual meeting with around 50 attendees every day during the week of 15th to 19th February 2021 was a success for the project and appreciated by the majority of German and Peruvian partners. Gather therefore will be used for upcoming meetings and workshops to ensure a continuously productive and collaborative third year of the project.
Thank you to all the speakers, listeners, question-askers and organizers for making this conference a fruitful and enjoyable event.
See you soon!
New short film about Peruvian fisheries and their economic network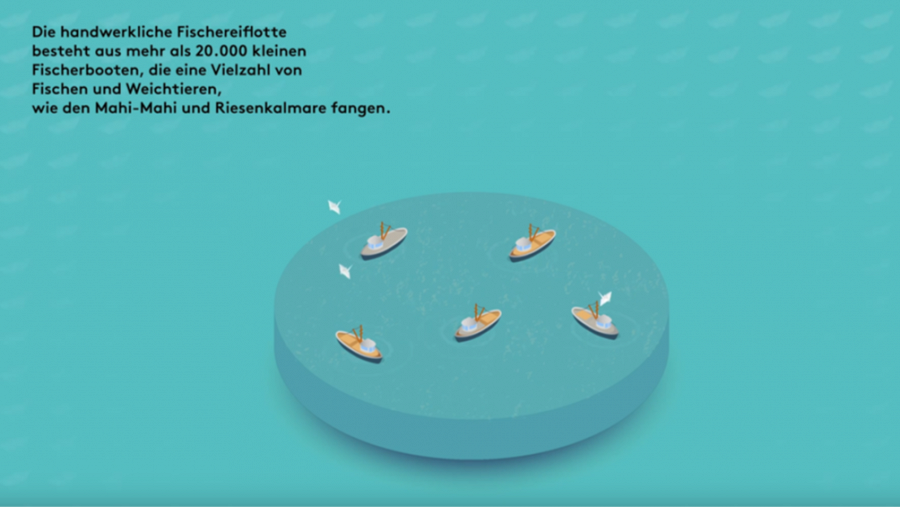 Latest project clip now available on Youtube
New paths for Humboldt Tipping project meetings and communication- a virtual conference in gathertown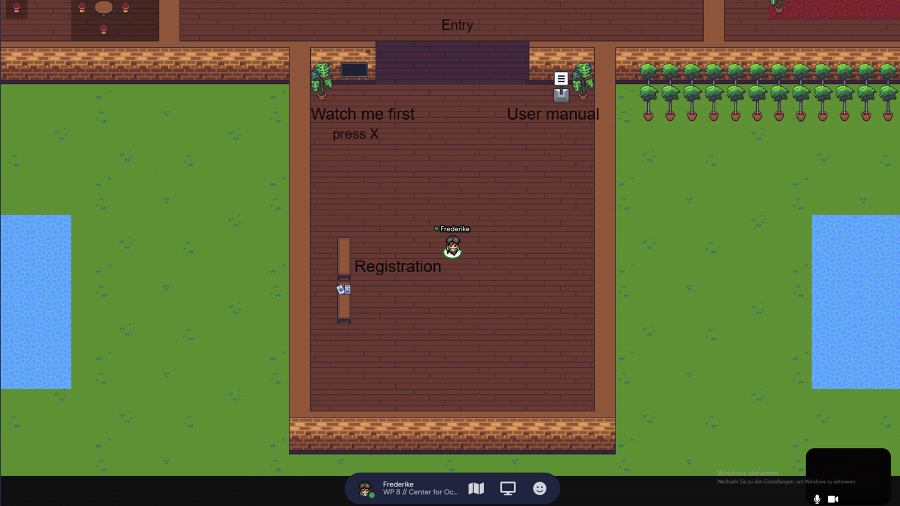 Conference space in gathertown where participants can move around and interact with eachother
Humboldt Tipping internal conference held in a virtual format
Due to the different time zones of the participants, the conference will take place across a whole week with two-hour time slots every day.
We expect around 40 participants from the Peruvian and German partners, as well as the project agency DLR and the advisory board during the sessions. Besides the exciting experiment of holding a virtual conference, we are very much looking forward to "seeing" everyone and plan future collaborations and further proceedings!