News
Germany and Peru Unite for the Humboldt Tipping Project: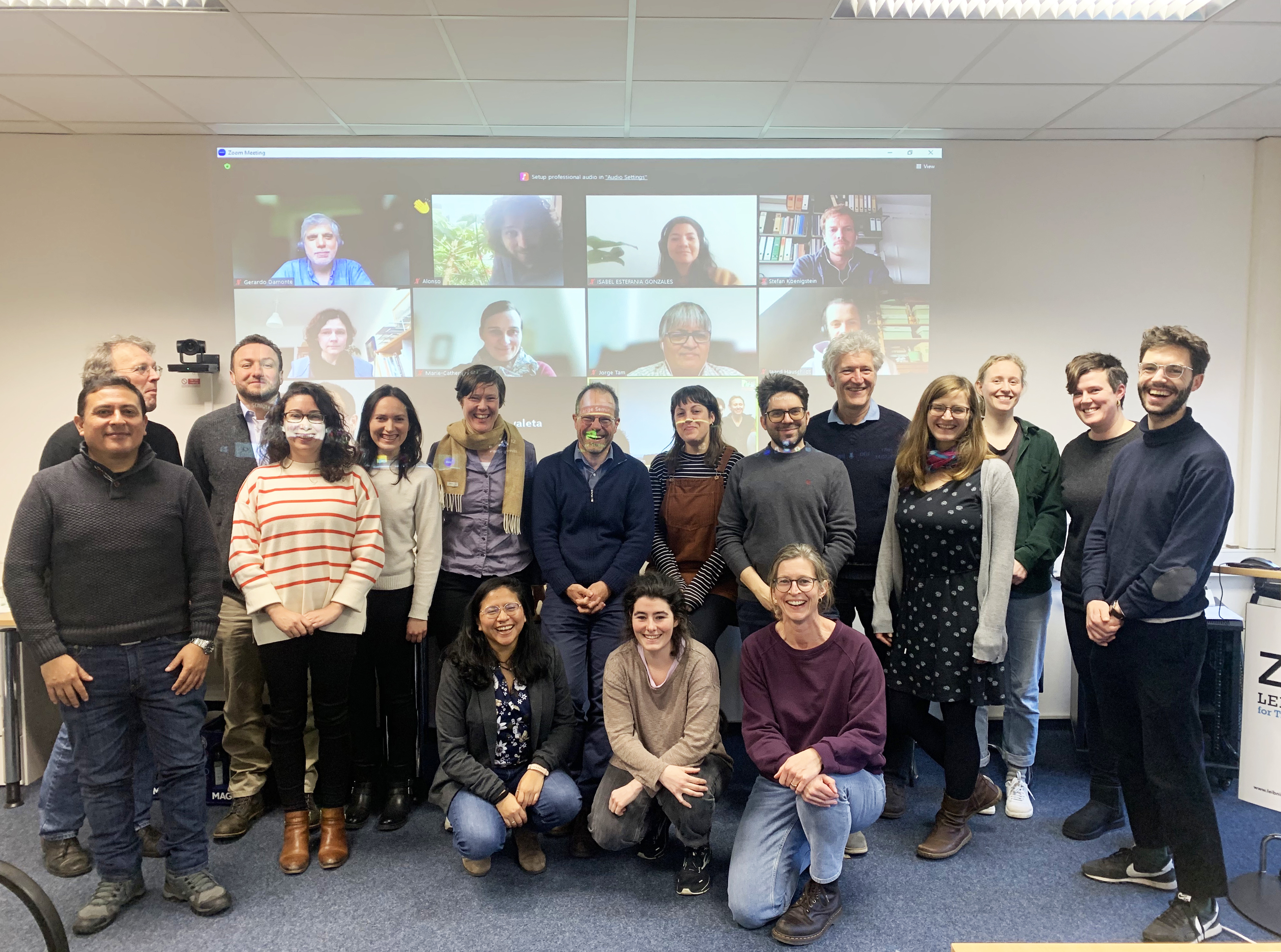 A Comprehensive Review of the Last Four Years and an Outlook for the Upcoming Second Phase
Visitors will then have the opportunity to gain a comprehensive overview of the field and its importance on a global scale. The virtual exhibition will continue to provide a valuable resource for learning more about this important research during the second phase of the project. At the same time, the exhibition will continue to grow and map the latest findings and future adaptation strategies based on the most current research.
Succesful stakeholder day during final Symposium of Humboldt Tipping project in Lima, Peru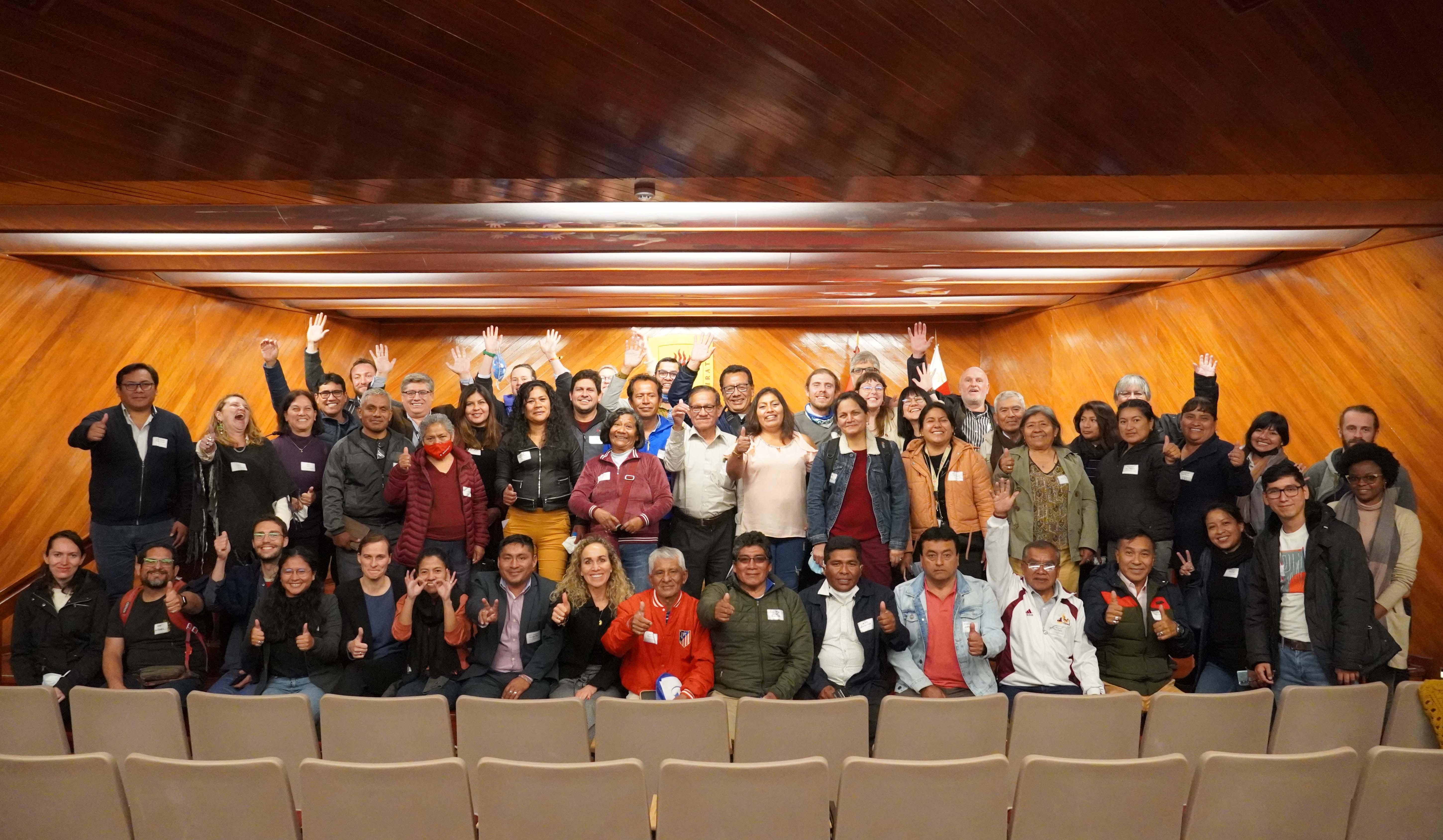 Bringing together society and science
They were welcomed and introduced to the event by Dr. Cornelia Andersohn, representative of the German Aerospace Center (DLR), Prof. Marie-Catherine Riekhof, coordinator of the Humboldt Tipping project, Edward Barriga, representative of the Peruvian project partner Instituto del Mar de Peru (IMARPE), Prof. Gerardo Damonte, Peruvian project partner of the Group for the Analysis of Development (Grade) and Armando Rosado from the Ministerio de Producción Peru. Prof. Gerardo Damonte moderated the event.
In the morning, relevant scientific results were presented in a compact format. Posters on the different work packages were also shown and the five short films created during the project were presented.
The afternoon was equally dedicated to dialogue and exchange: by means of targeted workshops on 1) Adaptation strategies in a changing world: how models can help us improve management, 2) The future of industrial fisheries in Peru and 3) Governance of artisanal fisheries, there was a lively discussion with all the invited guests from different sectors on the research results, integration into practice and future use of the accumulated know-how of the last four years. Participants discussed new scienetific insights on tipping points in the HUS, on-going challenges and possible future scenarios. The need for more possibilities to exchange in a setting similar to the HT-stakeholder day emerged as one conclusion for a possible way forward.
Despite the great diversity of different actors, and correspondingly different interests, all participants found the event very valuable and purposeful. This was a special characteristic of the event and we want to thank all participants to make this possible.
Final Symposium "Humboldt Tipping" in Lima, Peru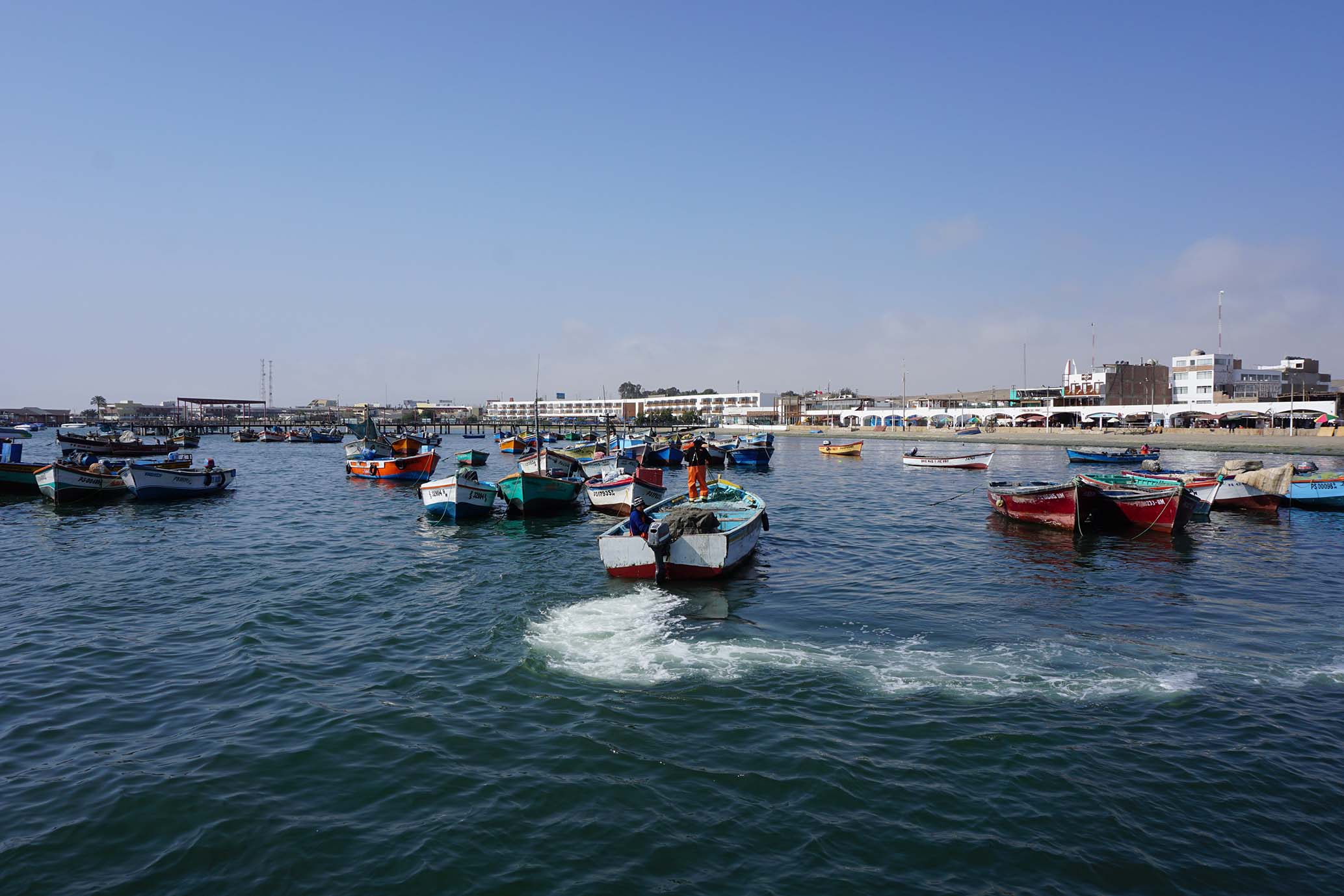 Looking back and glancing into the future after 4 years of research in the Humboldt Upwelling system
The first two days of the symposium are dedicated to scientific exchange on the project results. These will be presented internally by the different work packages. Together with the Peruvian partners of IMARPE and GRADE, we will work on future perspectives - How can we carry on the research from 4 years of collaboration within the Humboldt Tipping project even without further funding? In which research lines do we need to invest further? What have we learnt and what have we already been able to implement? Which knowledge gaps do we still need to close in the future?
The third day of the symposium is dedicated to the exchange with the stakeholders. Here, relevant results will be presented in a shorter format. In addition, there will be posters of the various work packages and the five short films produced in the course of the project will be shown.
The afternoon will also be dedicated to dialogue and exchange, with targeted workshops with all invited guests from different industries to discuss the research results, the integration into practice and the future use of the collected know-how from the past four years.
This day will bring together stakeholders from artisanal fisheries and their fishing associations from the north and south of the country, industrial fisheries, NGOs, local politics, the Ministries of Environment and Economy, mariculture associations, the Society for International Cooperation, national parks, schools and educational institutions as well as universities and the tourism sector. The event brings together stakeholders from across the country and from a wide variety of backgrounds and is designed, among other things, to promote dialogue and understanding among and for each other.
The results from the targeted workshops will feed back into research and eventually be able to make a socio-political contribution in the form of policy briefs. Thus, the Final Symposium is a preparation for a project conclusion but at the same time also a look into the future and an important step towards understanding such a globally important system as the Humboldt upwelling area and its sustainable management.
New research paper about the Peruvian Upwelling System published in Biogeosciences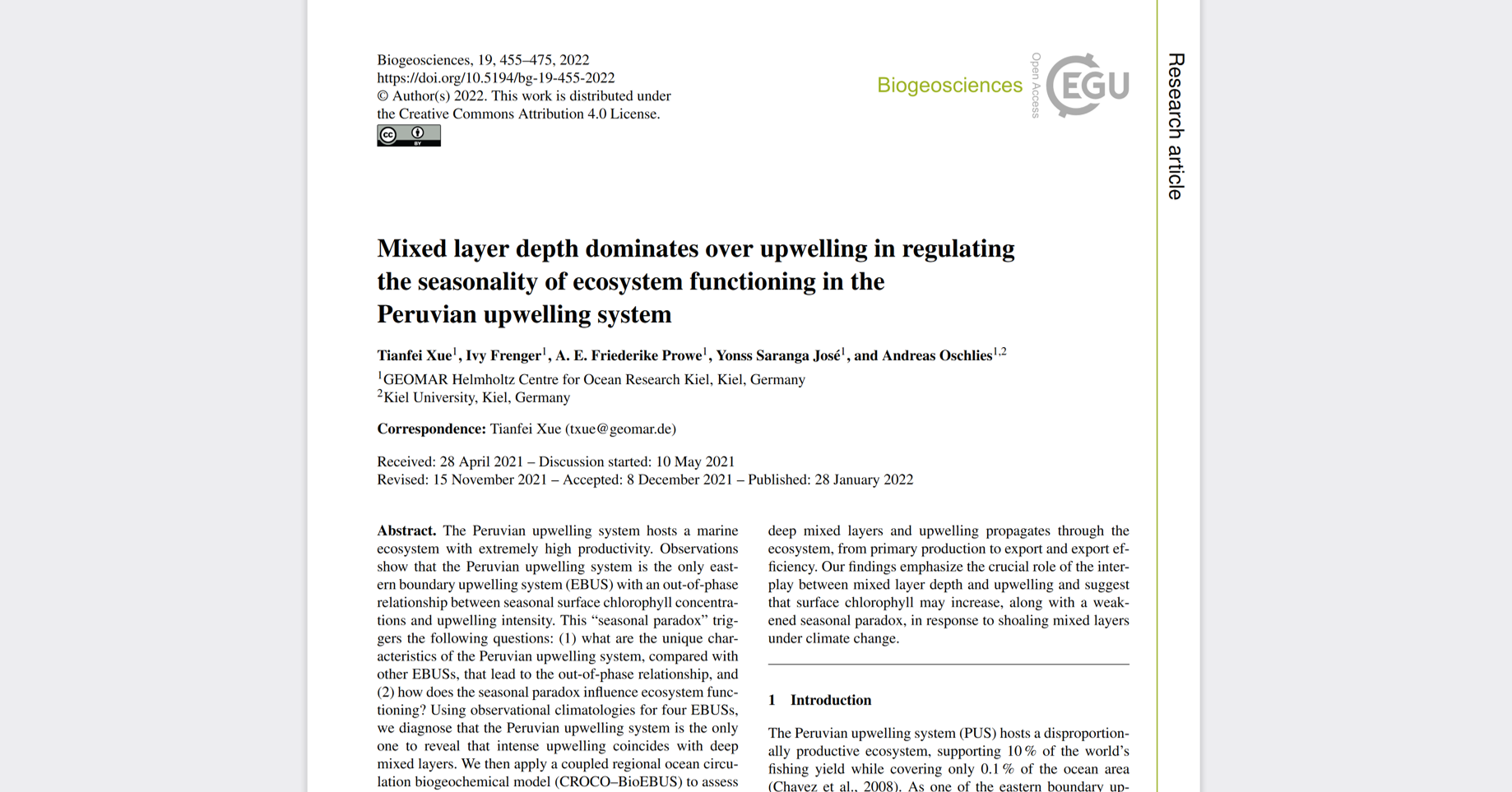 Mixed layer depth dominates over upwelling in regulating the seasonality of ecosystem functioning in the Peruvian upwelling system
This "seasonal paradox" triggers the following questions: (1) what are the unique characteristics of the Peruvian upwelling system, compared with other EBUSs, that lead to the out-of-phase relationship, and (2) how does the seasonal paradox influence ecosystem functioning? Using observational climatologies for four EBUSs, the authors diagnose that the Peruvian upwelling system is the only one to reveal that intense upwelling coincides with deep mixed layers. They then apply a coupled regional ocean circulation biogeochemical model (CROCO–BioEBUS) to assess how the interplay between mixed layers and upwelling regulates the seasonality of surface chlorophyll in the Peruvian upwelling system. The author´s model reproduces the "seasonal paradox" within 200 km off the Peruvian coast. They confirm previous findings regarding the main contribution of mixed layer depth to the seasonality of chlorophyll, relative to upwelling. Deep mixed layers in austral winter cause vertical dilution of phytoplankton and strong light limitation, impacting growth. The effect of advection, though second-order, is consistent with previous findings for the Peruvian system and other EBUSs, with enhanced offshore export opposing the coastal build-up of biomass. In addition, the authors find that the relatively colder temperatures of upwelled waters slightly dampen phytoplankton productivity and further slow the build-up of phytoplankton biomass. This impact from the combination of deep mixed layers and upwelling propagates through the ecosystem, from primary production to export and export efficiency. The findings emphasize the crucial role of the interplay between mixed layer depth and upwelling and suggest that surface chlorophyll may increase, along with a weakened seasonal paradox, in response to shoaling mixed layers under climate change.
Original publication open access:
Xue, Tianfei , Frenger, Ivy , Prowe, A. E. Friederike , Jose, Yonss Saranga und Oschlies, Andreas (2022) Mixed layer depth dominates over upwelling in regulating the seasonality of ecosystem functioning in the Peruvian Upwelling System. Open Access Biogeosciences (BG), 19 . pp. 455-475.
DOI 10.5194/bg-19-455-2022.
The article is accessible at the following link:
New book chapter published on "Adaptations to climate variability in fisheries and aquaculture (...)"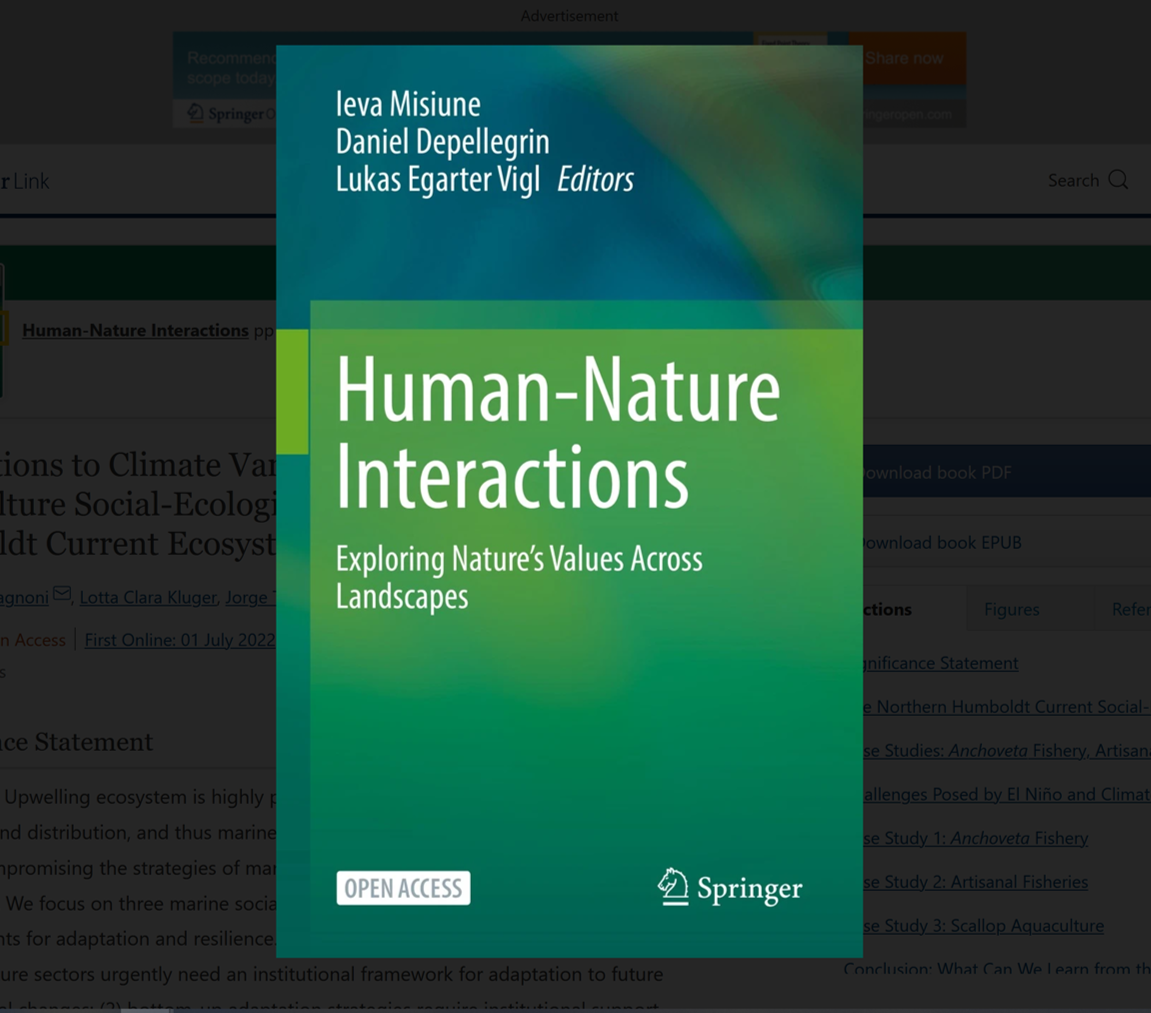 Adaptations to climate variability in fisheries and aquaculture social-ecological systems in the Northern Humboldt Current Ecosystem: challenges and solutions
The book chapter focuses on three marine social-ecological systems to identify weaknesses and leverage points for adaptation and resilience. The findings were that (1) the Peruvian artisanal fishery and aquaculture sectors urgently need an institutional framework for adaptation to future environmental changes; (2) bottom-up adaptation strategies require institutional support, tailored to socio-ecological specificities; and (3) additional research on socio-ecological tipping points and their effects for human-nature interactions and societal repercussions is necessary. These finding may be useful in other systems undergoing similar challenges.
Original publication:
Romagnoni G., Kluger L., Tam J., Wolff M. 2022. Adaptations to climate variability in fisheries and aquaculture social-ecological systems in the Northern Humboldt Current Ecosystem: challenges and solutions. In: Human-nature interactions. Exploring nature's values across landscapes. Misiune I., Depellegrin D., Egarter Vigl L. (Eds). Springer Nature. Open access.
DOI:10.1007/978-3-031-01980-7_30
In book: Human-Nature Interactions (pp.389-403)
The whole book is open access and the above mentioned chapter is accessible from the following link:
https://link.springer.com/chapter/10.1007/978-3-031-01980-7_30
New short film online about coastal fisheries in Peru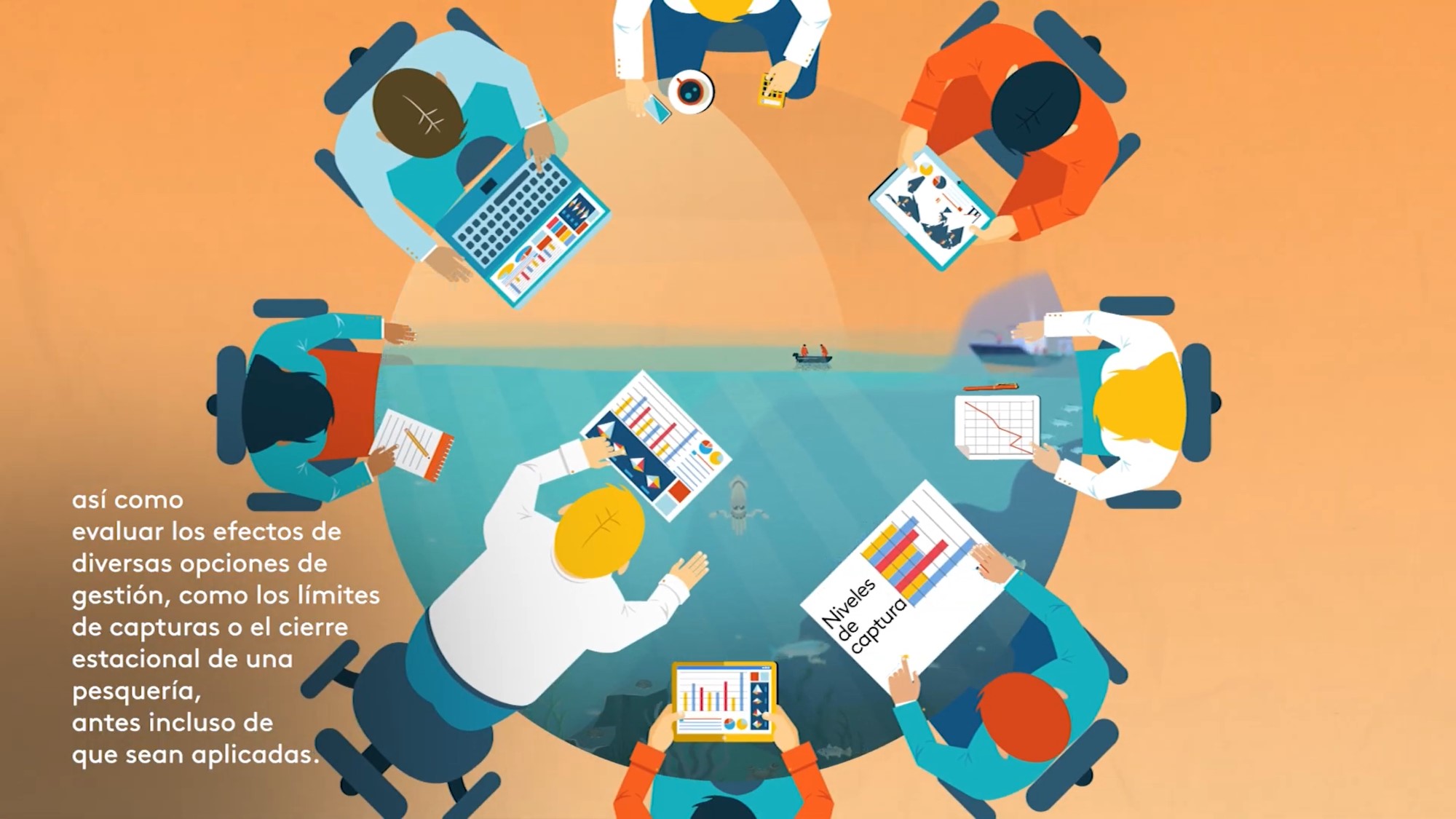 Understanding the interactions between humans and the ocean
But, climate change, environmental instability and an increasing demand for seafood are putting this system under pressure. Scientists warn that - in the long term - the ocean off the coast of Peru could lose its productivity and richness, as well as its ability to provide services to our society. In the end, the nets of fishers could be left empty and Ceviche, the famous Peruvian national dish, may look completely different.
Find the movie on our youtube channel in a Spanish, English and German version:
For further information please contact:
Center for Ocean and Society
Christian-Albrechts-Universität zu Kiel
Neufeldtstraße 10
24118 Kiel
Germany
A successful fieldwork campaign in Peru!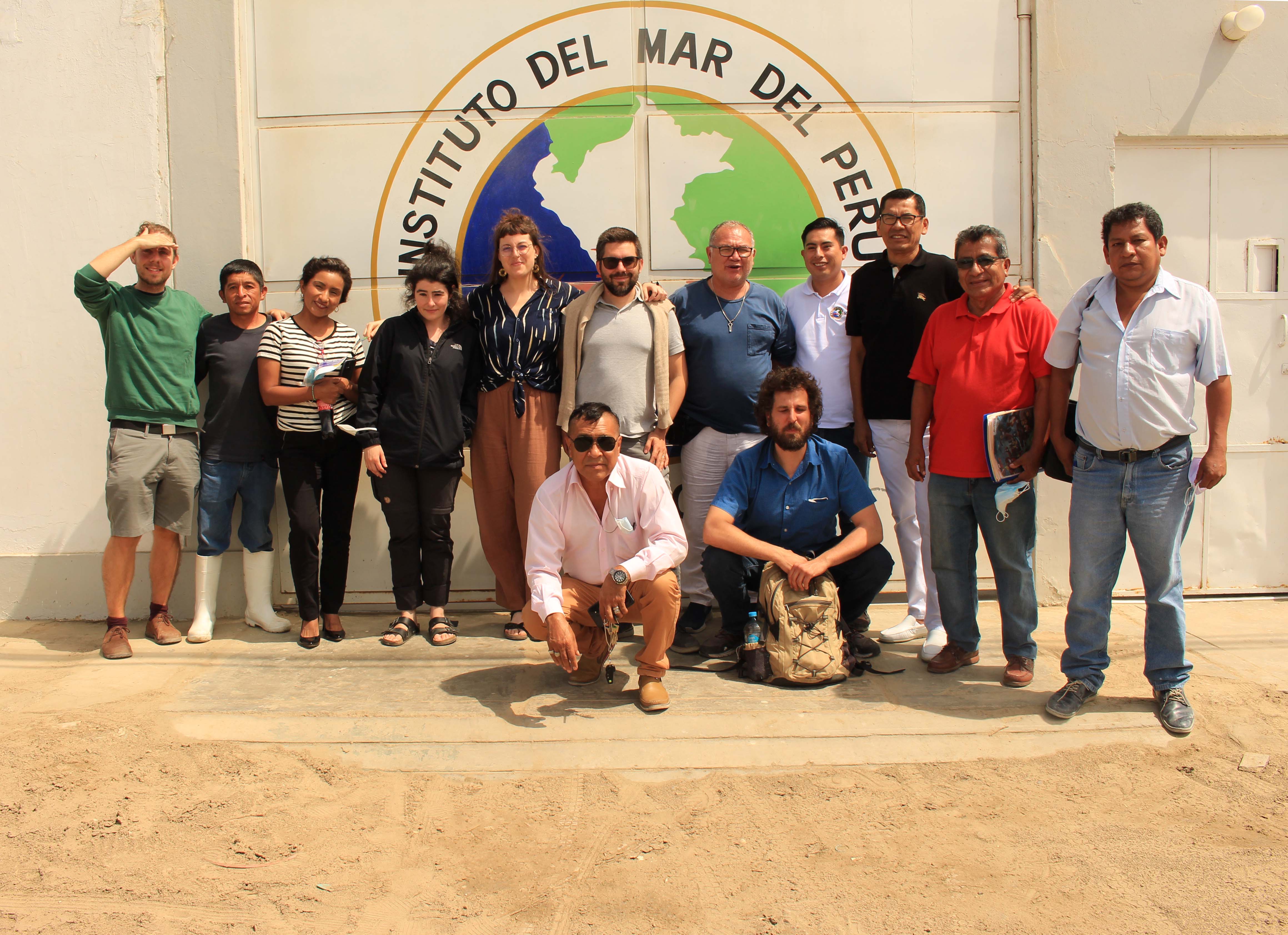 Together with Sara Doolittle Llanos, María Garteizgogeascoa, Isabel Gonzáles and Prof. Gerardo Damonte from WP7, the team reached out to local stakeholders involved in several types of fisheries in the bays of Sechura and Independencia, and carried out social-ecological timeline workshops. The purpose of these workshops was twofold: First-hand accounts by artisanal fishers of the most impactful and transformative events in the bays throughout the last decades are fundamental to interpret the data the modelers are currently working with and to help contextualize any remaining uncertainties, as well as to point towards relevant questions for future research. Additionally, this type of workshop is central to the Humboldt Tipping project goals of knowledge exchange between scientists and other involved stakeholders. After all the information is analyzed, it will be returned to the stakeholders in a preferred format and contribute to the elaboration of a policy brief for decision makers.
In the final stretch of the fieldwork phase, the team traveled to IMARPE's head office in Lima to present an overview of the preliminary results of the Humboldt Tipping project as well as the current state of WP5 and WP6 models, and to personally invite members of IMARPE to our project's Final Symposium, taking place in Lima 26-28th September. More info on that soo
Call for Abstracts for international symposium of "Small Pelagic Fish: New Frontiers in Science for Sustainable Management"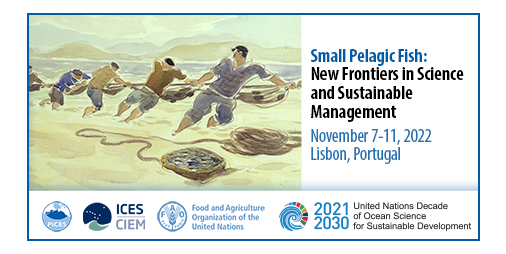 May 22, 2022 is the early registration,  abstract submission and financial support application deadline for the international symposium on "Small Pelagic Fish: New Frontiers in Science for Sustainable Management",  to be held November 7-11, 2022, in Lisbon, Portugal.
During the last four decades, coordinated, global research efforts (see tab on History of Global Collaboration on SPF) have targeted these and other topics, yielding important comparative analyses and highlighting key gaps in our knowledge. For example, global analyses revealed oscillations in the productivity of SPF populations linked to climate variability on various (seasonal to multi-decadal) scales that have resulted in dramatic consequences for ecological and human communities. The exchange of information and ideas drawn from comparing populations across the globe can be particularly insightful as we seek to improve management strategies.
Substantial scientific progress continues to be made on understanding the drivers and dynamics of SPF in ecosystems across a range of spatial and temporal scales. The integration of numerical models with ever-growing data from monitoring efforts and stock assessments has enabled more comprehensive consideration of hypotheses describing SPF population variability. Additionally, the rapid development of new methods like eDNA, machine learning, and genome analysis to ascertain population structure can offer new insight to long-standing questions. The application of various regional management strategies and approaches to studying coupled social-ecological systems in collaboration with industry and other stakeholders is ripe for comparative research.
The international symposium on "Small Pelagic Fish: New Frontiers in Science for Sustainable Management" will highlight the state-of-the-art in these and other topics related to the ecology and sustainable management of SPF. The symposium complements collaborative research conducted by the joint ICES/PICES Working Group on Small Pelagic Fish and is relevant to the goals of the UN Decade of Ocean Science for Sustainable Development, particularly "to bolster scientific research for a sustainably harvested ocean ensuring the provision of food supply."
This is a reminder that May 22, 2022 is the early registration, abstract submission and financial support application deadline for the international symposium on "Small Pelagic Fish: New Frontiers in Science for Sustainable Management", to be held November 7-11, 2022, in Lisbon, Portugal. The meeting is plannedas an in-person meeting.
You can find more information on the conference and on the program (sessions & workshops) here:
https://meetings.pices.int/meetings/international/2022/pelagic/program
How Important are Social Networks in Times of Environmental Crises?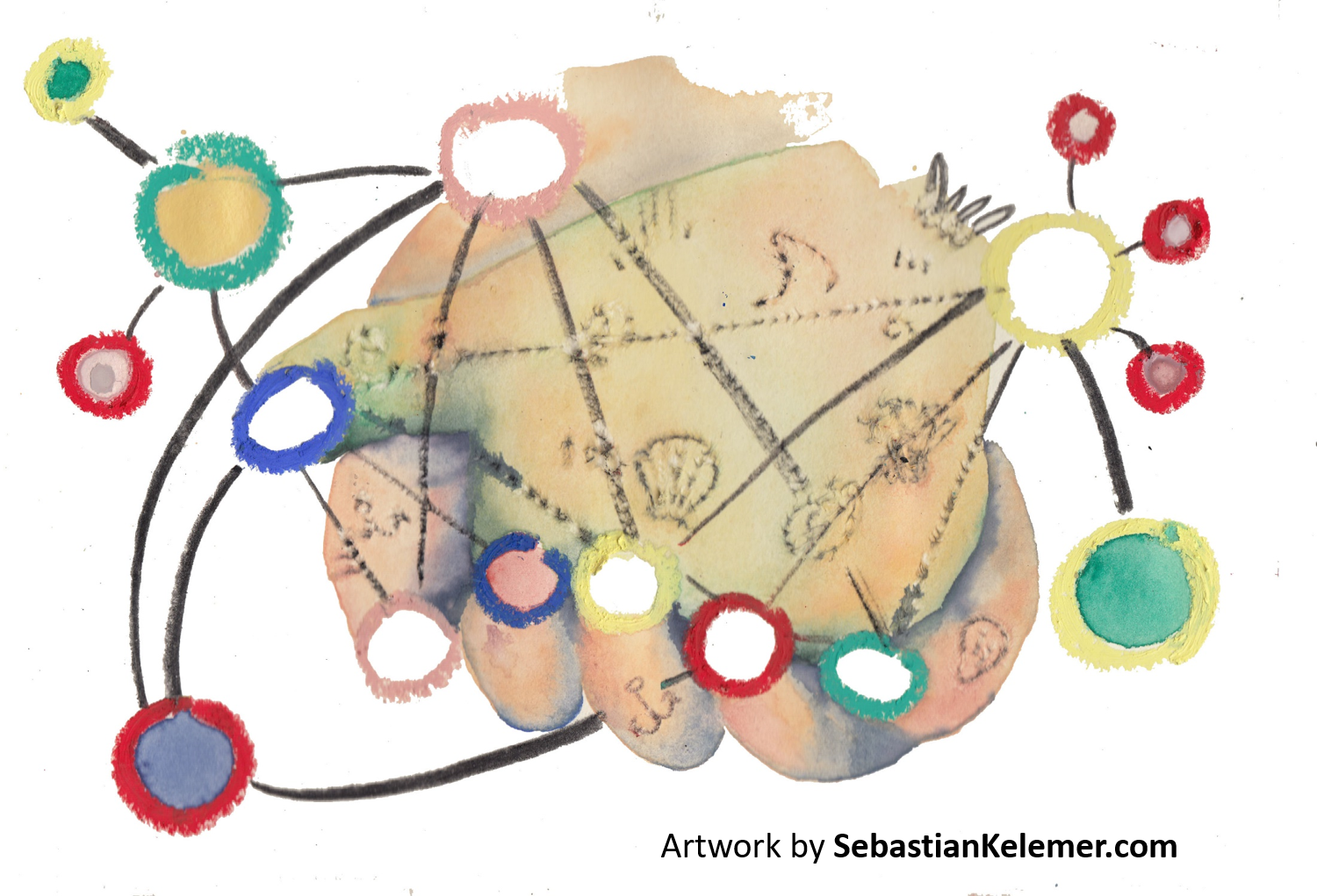 Social Networks Artwork by SebastianKemeler.com
New publication by Michael Kriegl et al. in Social Science Open Access Repository (SSOAR)
We provide insights into two examples of ongoing research that investigate the role of fishers and farmers' social networks when dealing with and recovering from environmental disasters that brought drastic change to their respective communities in Peru and Bangladesh. Our findings indicate that the number and diversity of connections is crucial for coping with crises, and suggest the need for further research on the ways social networks are shaping individual and community responses to environmental impacts.
Original publication:
Kriegl, M., Kluger, L. C., Holzkämper, E., Nagel, B., Kochalski, S., & Gorris, P. (2021). How Important are Social Networks in Times of Environmental Crises? easy social sciences, 66, 11-20. https://doi.org/10.15464/easy.2021.007
Find the publication here:
https://www.ssoar.info/ssoar/handle/document/76109
New short film online about the nitrogen cycle and potential tipping points in the Humboldt Current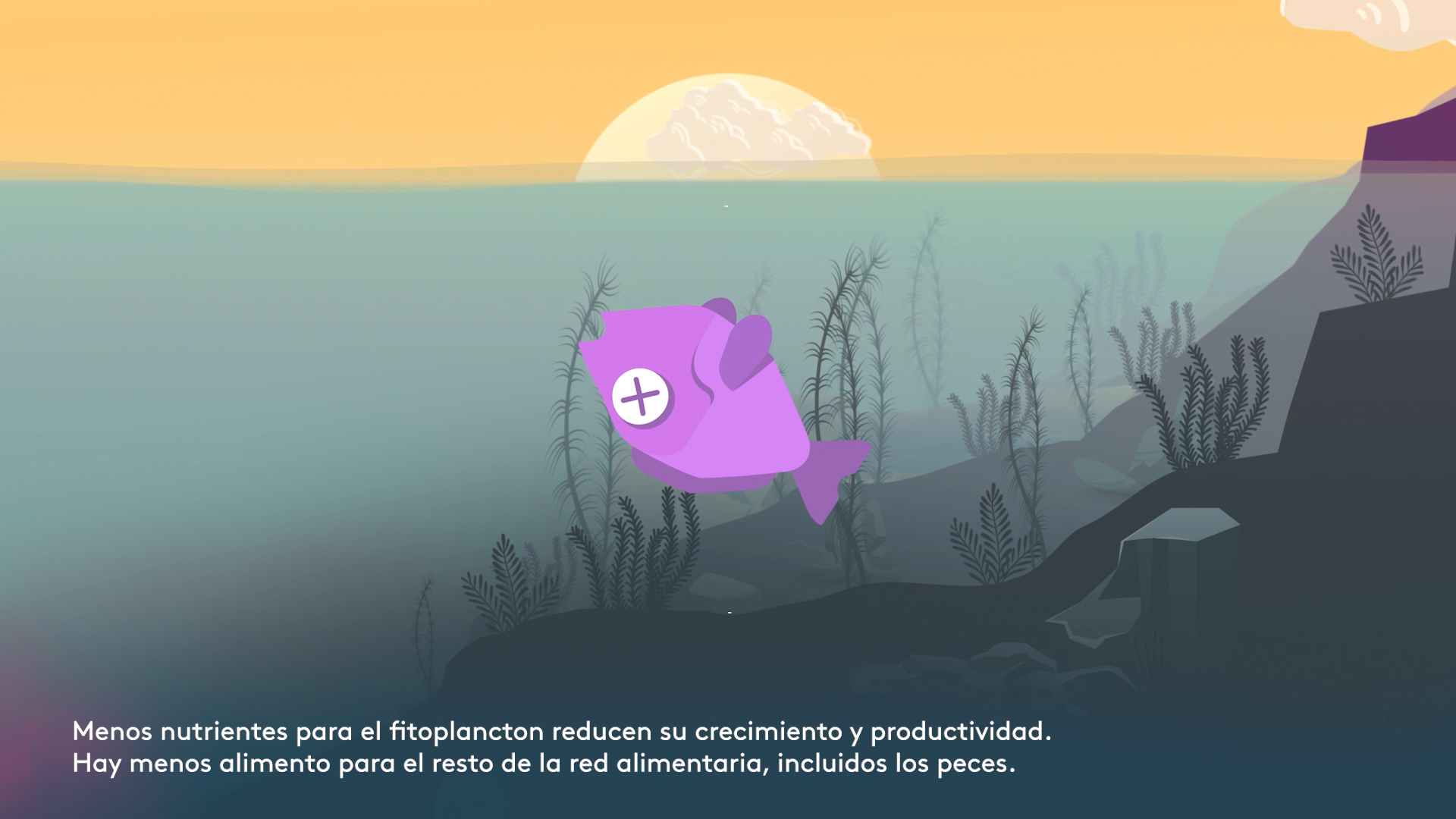 Latest project clip now available on Youtube
Some microbes, called nitrogen fixers, can access nitrogen gas dissolved in seawater and convert it into a form that other phytoplankton can use. This may return some of the lost nitrogen to the Humboldt Upwelling System and potentially keep the nitrogen cycle in balance.
Scientists from Germany and Peru are working together to understand why the nitrogen deficit is not replenished by nitrogen fixation. These results will be used to predict the effects of climate change on the nitrogen cycle and its possible consequences for the productivity of the Humboldt Upwelling System in the future.
Find the movie on our youtube channel in a Spanish, English and German version:
https://www.youtube.com/watch?v=r5NEruCR4AE
For further information please contact:
Center for Ocean and Society
Christian-Albrechts-Universität zu Kiel
Neufeldtstraße 10
24118 Kiel
Germany
Species shift due to tipping point in Humboldt Current off Peru.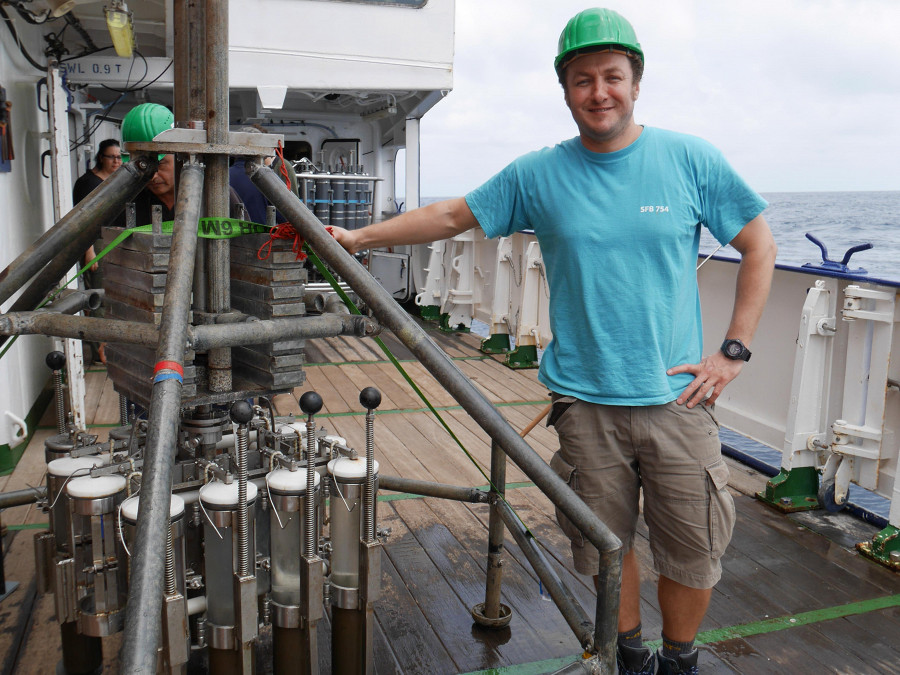 First author Dr. Renato Salvatteci taking samples on board of the research vessel Meteor during an expedition off Peru. © Martin Visbeck, GEOMAR
Researchers reconstruct link between ocean warming and shift to smaller fish species using sediment samples from Humboldt Current area
The sea off the west coast of South America is now one of the most vital and productive fishing grounds on earth. About eight percent of the global marine catch comes from the areas off the coasts of Peru, where the near-surface Humboldt Current provides a high nutrient supply and thus sufficient food for commercially exploited fish species such as the anchovy. Ten percent of the total global catch of anchovy alone comes from the region. Much of it is processed into fish meal and oil and fed primarily to aquacultures in China and Norway. However, catches of anchovy in the Humboldt upwelling system are currently declining significantly, while smaller schooling fish such as goby are increasing. The reasons for the shift in species are still unclear and are the subject of the current study.
Researchers from the Institute of Geosciences at Kiel University, together with colleagues from GEOMAR Helmholtz Centre for Ocean Research and international partners, have for the first time investigated the relationships between temperature, oxygen content, nutrient supply and the occurrence of individual fish species using paleo-oceanographic data from the Humboldt Current area. The scientists focused on the older warm period about 125,000 years ago (Eemian interglacial). During this time, conditions were similar to those predicted by climate projections (e.g., the IPCC report) for the end of the 21st century at the latest: i.e., comparable primary production, but water temperatures two degrees Celsius higher than today and increased oxygen deficiency in intermediate water depths.
For their paleo-oceanographic studies, the scientists at Kiel University primarily analyzed small fish eddies that they were able to isolate from sediment cores. According to the results, smaller, goby-like fish predominated in coastal waters during the older warm period, while anchovies made up only a small proportion. Fish with smaller body sizes can adapt better to warmer temperatures. They maintain their high activity levels even in less oxygenated waters thanks to their larger gill surface area relative to their body volume.
"The conditions of this past warm period, which we were able to reconstruct from our samples, can definitely be compared to the current development and put in context with future scenarios," says first author of the study, Dr. Renato Salvatteci, who is currently conducting research at the Center for Ocean and Society of the Kiel Marine Science (KMS) research center at Kiel University in the BMBF-funded Humboldt-Tipping project. "According to this, there is a clear regime shift toward smaller fish that are more comfortable in the warm, lower-oxygen conditions. We conclude from our results that the effects of human-induced climate change may have a stronger influence on the evolution of stocks in the region than previously thought," Salvatteci added. Smaller fish are harder to catch and less palatable. According to the report, the impact on the Peru region, local fisheries income and global trade in anchovies could be far-reaching - potentially affecting global food security.
"Our studies based on the sediment cores can give us fairly accurate information about the changes and their dynamics in highly productive coastal waters worldwide that have occurred in the wake of different climate states and over different time scales," explains Professor Ralph Schneider, a paleoclimate researcher at the Institute of Geosciences at Kiel University and co-author of the study.
Due to increasing warming in the Humboldt Current upwelling region, the researchers believe the ecosystem is heading toward a tipping point, beyond which anchovy will begin to retreat and no longer dominate nearshore fishing grounds. "Despite a flexible, sustainable and adaptive management strategy, anchovy biomass and landings have declined, suggesting that we are closer to the ecological tipping point than suspected," summarizes lead author Renato Salvatteci. The results help to better assess the extent to which a warming ocean can provide sufficient food for the world's population and what changes humanity should expect for the development of important fish species such as the anchovy.
The study was funded by the Collaborative Research Center (SFB) 754 "Climate-Biogeochemical Interactions in the Tropical Ocean," a cooperative project of Kiel Christian Albrechts University (CAU) and GEOMAR Helmholtz Centre for Ocean Research Kiel. Additional support came from the BMBF project Humboldt-Tipping, coordinated at the Center for Ocean and Society, as well as funding from the Emmy-Noether Junior Research Group ICONOX at GEOMAR. First author Renato Salvatteci was also supported by a fellowship from the Alexander von Humboldt Foundation.
Original publication:
Renato Salvatteci, Ralph R. Schneider, Eric Galbraith, David Field, Thomas Blanz, Thorsten Bauersachs, Xavier Crosta, Philippe Martinez, Vincent Echevin, Florian Scholz, Arnaud Bertrand, "Smaller fish species in a warm and oxygen-poor Humboldt Current System".
https://doi.org/10.1126/science.abj0270
Links
https://humboldt-tipping.org/en
https://www.geomar.de/forschen/fb2/fb2-mg/iconox
https://oceanandsociety.org/de/teammitglieder/dr-renato-salvatteci
Presentation at the Marine Sustainability Conference -SNP by Dr. Renato Salvatteci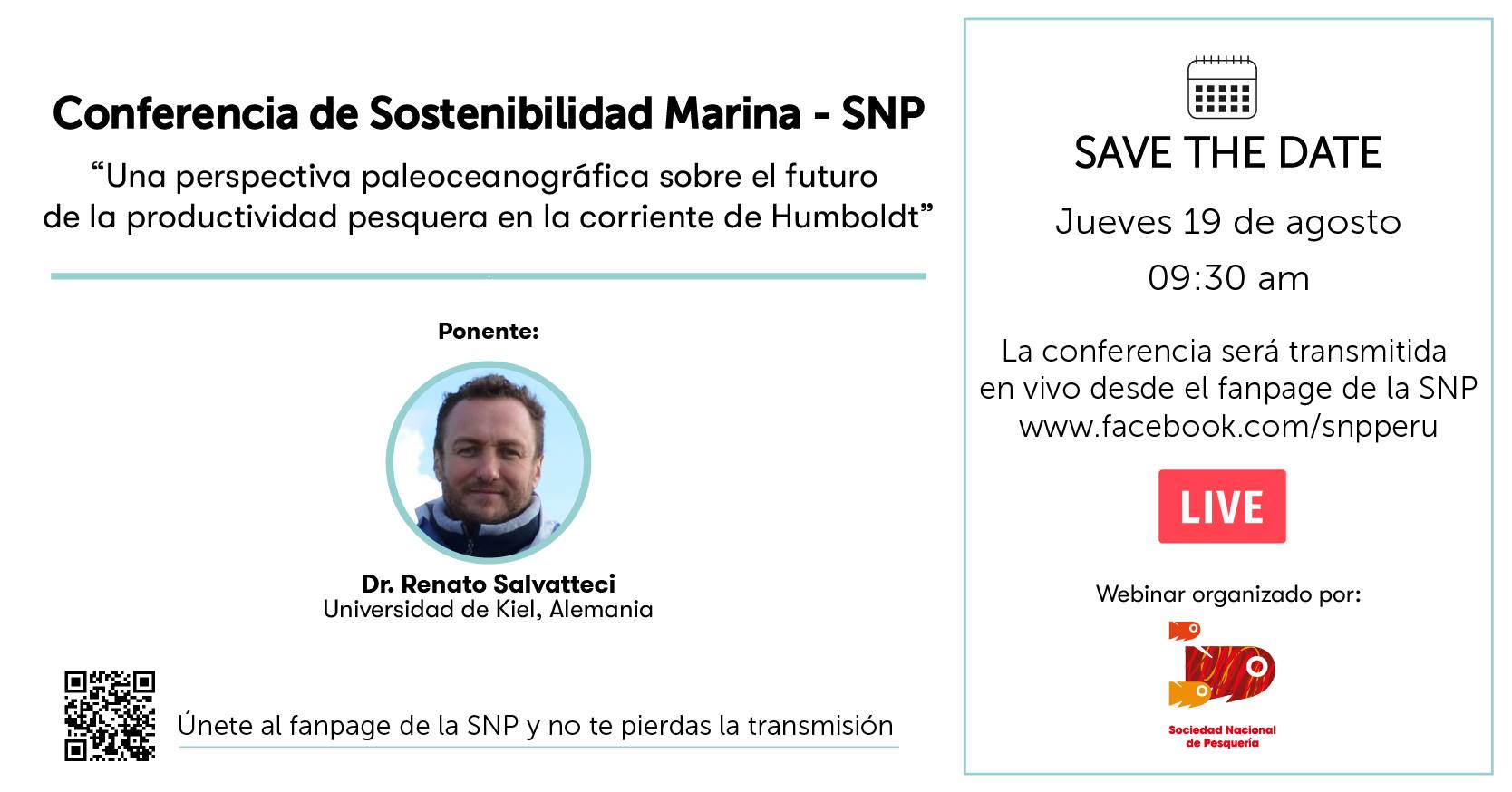 Future of fishery productivity in the Humboldt Current: A paleoceanographic perspective.
New publication online: Zooplankton mortality effects on the plankton community of the northern Humboldt Current System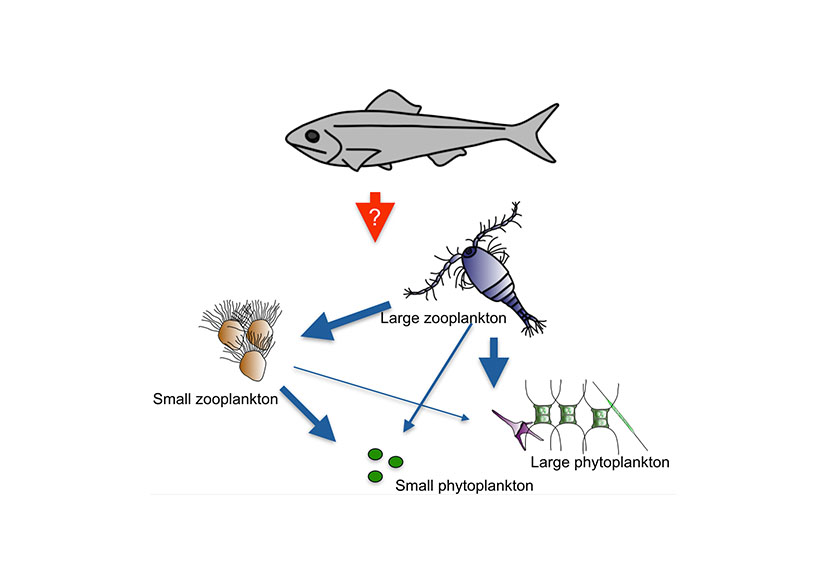 Interactions of the plankton communitiy in the Northern Humboldt Current system.
Sensitivity of a regional biogeochemical model
We used a computer simulation, or "model" of the eastern tropical South Pacific ocean to understand such effect. In our models we changed the mortality of zooplankton, microscopic organisms in the water, to mimic fish predation off Peru's coast. This is possible because small pelagic fish, such as anchovies and sardines, feed on these plankton. When there are a lot of fish, you can expect that the abundance of their prey, for example large zooplankton, is low and vice versa. This can have a top-down effect on their food webs, so on smaller zooplankton and phytoplankton.
The top predator in our model was large zooplankton, which is the main prey of anchovies. When we simulated low fish predation in our models (low mortality of zooplankton and, therefore, high abundance of large zooplankton), it had a large effect on the food web. This means that if there are less fish, large zooplankton can thrive. Because there is more larger zooplankton, their prey, small zooplankton and phytoplankton, decrease as more of them are eaten. When the opposite scenario was simulated, so more fish present and therefore fewer large zooplankton, the response was opposite, but weaker. As more large zooplankton were eaten, the smaller plankton increased.
Our study provides a first insight into how fluctuations of small pelagic fish could affect the plankton community of the NHCS. Our approach of changing zooplankton mortality allows us to understand the response of the system without the need of including a fish model. This reduces complexity and uncertainties in the model.
For further information please contact:
Mariana Hill- Cruz
GEOMAR Helmholtz-Zentrum für Ozeanforschung Kiel
Düsternbrooker Weg 20
24105 Kiel
Germany
mhill-cruz@geomar.de
Tel. +49 431 600-4270
Original publication:
Zooplankton mortality effects on the plankton community of the northern Humboldt Current System: sensitivity of a regional biogeochemical model
Mariana Hill Cruz1, Iris Kriest1, Yonss Saranga José1, Rainer Kiko2, Helena Hauss1,3, and Andreas Oschlies1,3
Virtual conference - a successful experiment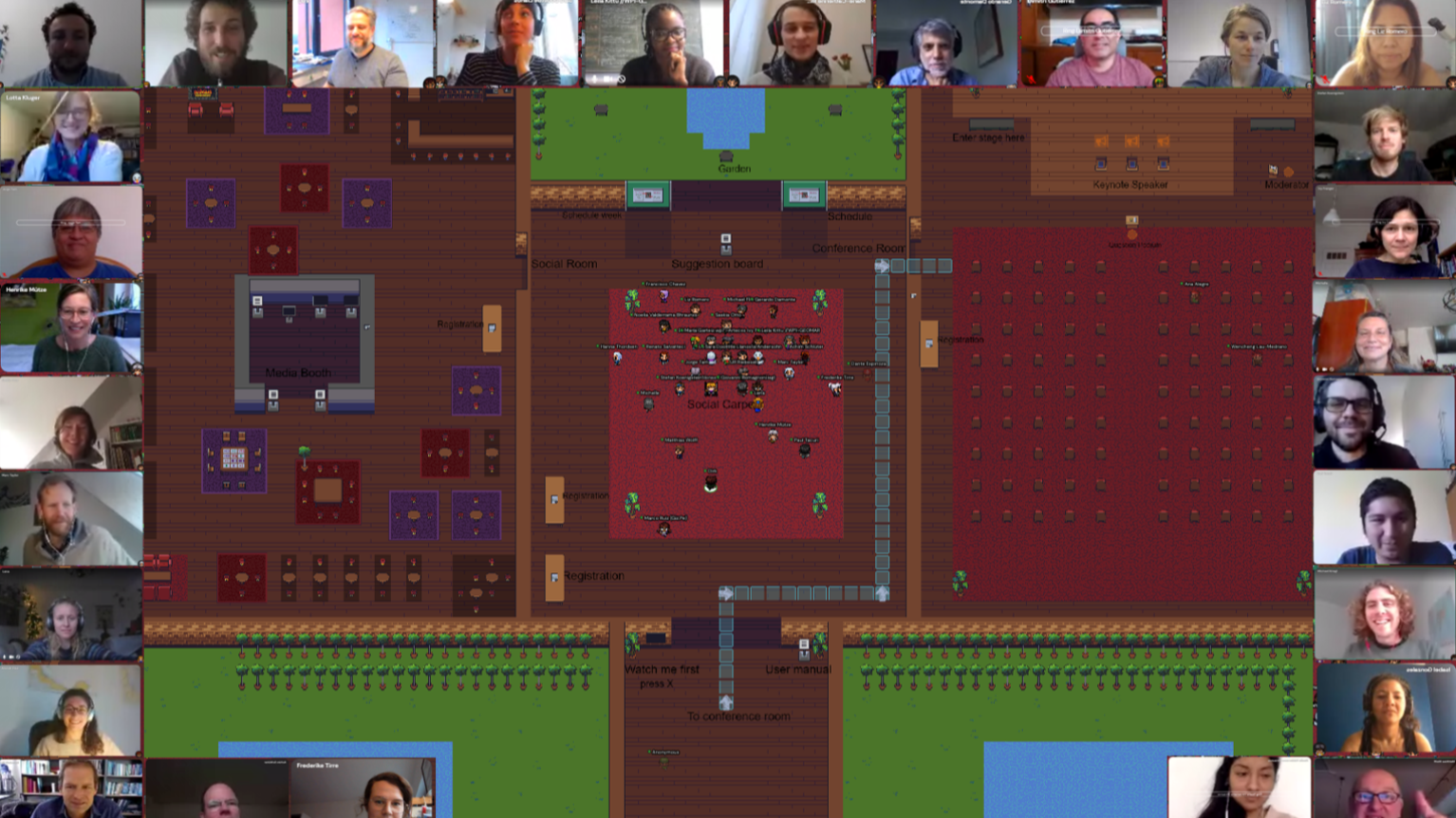 More than half of the conference´s participants from peru and Germany smiling for the virtual group picture
Although the preparation for a virtual format with a "real conference feel" was a challenge in itself, everything turned out well organized and smoothly running after some start-up difficulties on the first day to find one's way around in the virtual conference world.
The virtual meeting with around 50 attendees every day during the week of 15th to 19th February 2021 was a success for the project and appreciated by the majority of German and Peruvian partners. Gather therefore will be used for upcoming meetings and workshops to ensure a continuously productive and collaborative third year of the project.
Thank you to all the speakers, listeners, question-askers and organizers for making this conference a fruitful and enjoyable event.
See you soon!
New short film about Peruvian fisheries and their economic network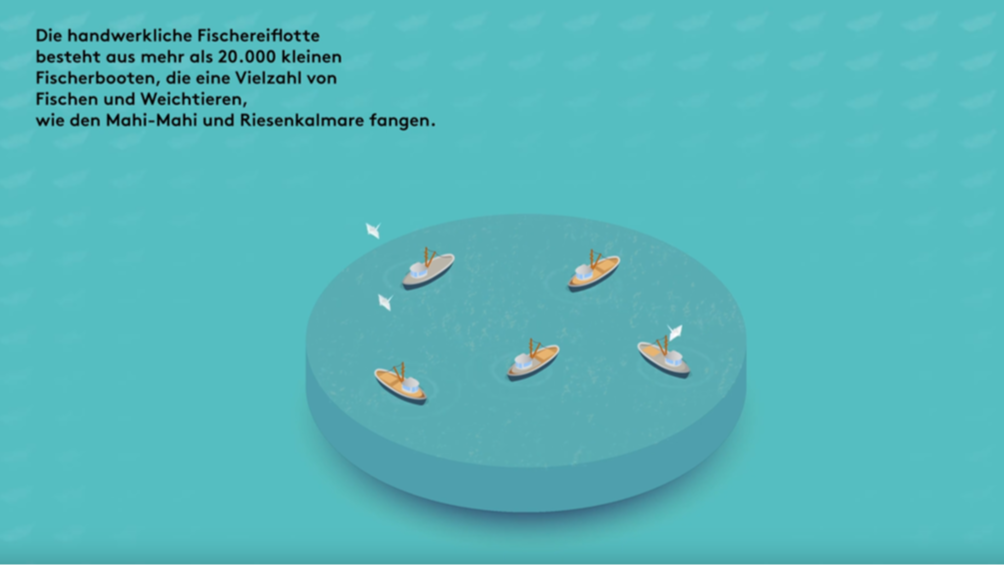 Latest project clip now available on Youtube
New paths for Humboldt Tipping project meetings and communication- a virtual conference in gathertown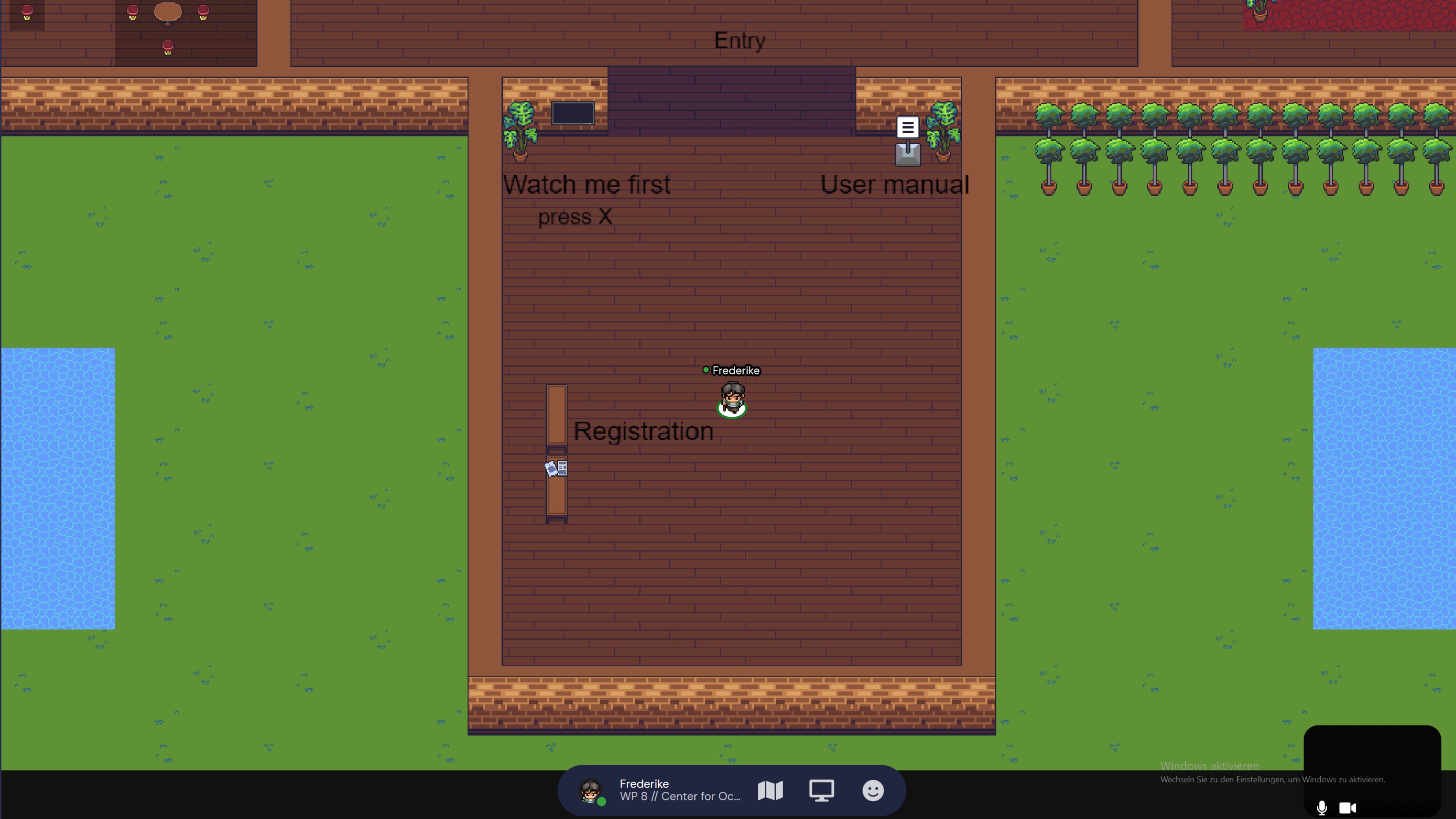 Conference space in gathertown where participants can move around and interact with eachother
Humboldt Tipping internal conference held in a virtual format
Due to the different time zones of the participants, the conference will take place across a whole week with two-hour time slots every day.
We expect around 40 participants from the Peruvian and German partners, as well as the project agency DLR and the advisory board during the sessions. Besides the exciting experiment of holding a virtual conference, we are very much looking forward to "seeing" everyone and plan future collaborations and further proceedings!
Humboldt Tipping invites to participate in a survey on the effects of COVID-19 in marine and coastal areas of Peru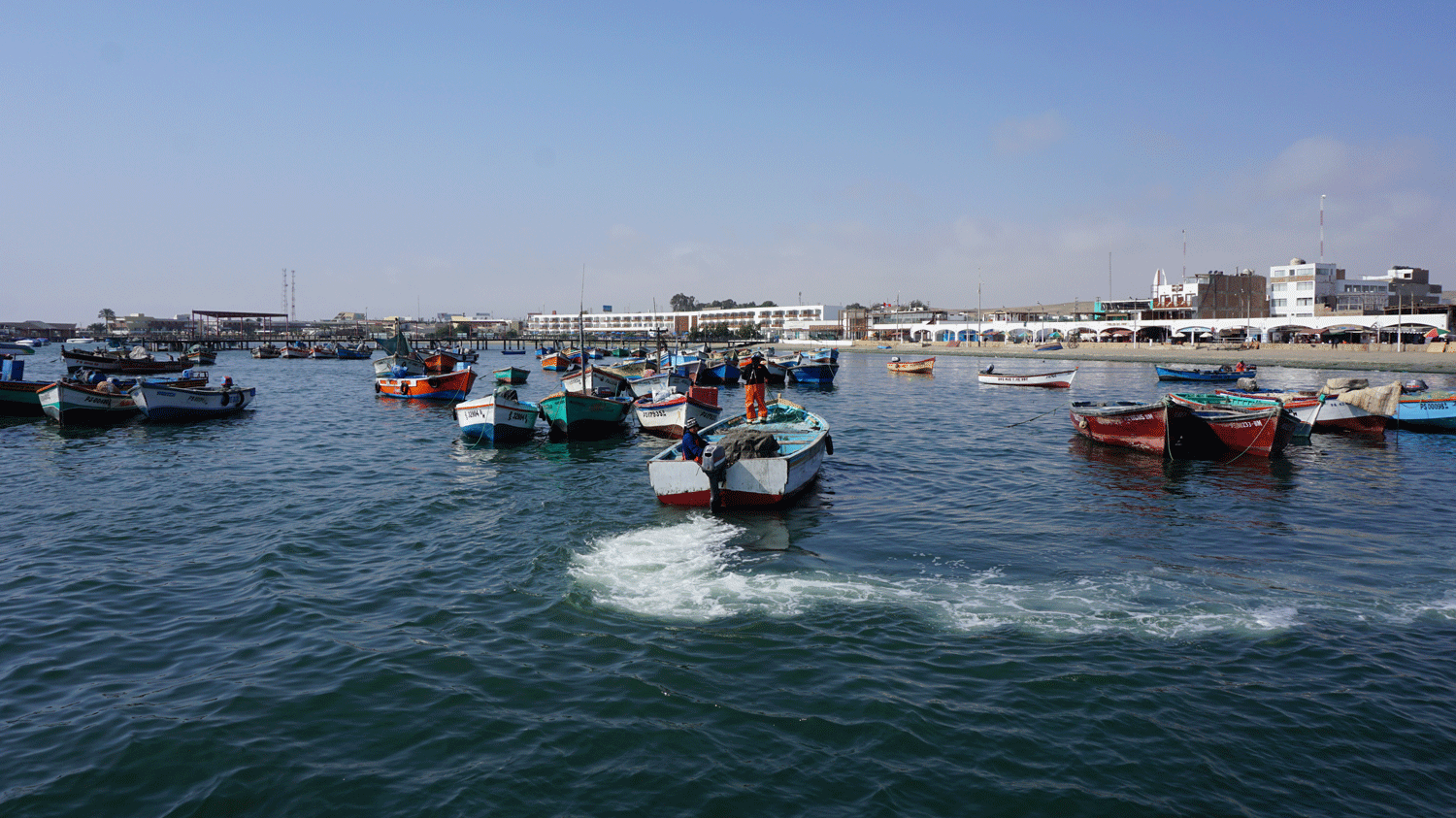 Research on the effects of COVID-19 among actors linked to marine and coastal areas in the regions of Piura and Ica
These tools are being used to investigate the impacts of the pandemic on family units, communities dedicated to fishing and tourism, and institutions linked to the management of marine resources and on the resources themselves.
The research will explore the current and long-term effects of the pandemic on marine and coastal activities and their users with the main aim of reflecting on vulnerabilities and needs in times of crisis. The information will allow to propose the future development of adaptation strategies and more effective, fair and contextualised responses to crisis situations. The results will be shared in reports that will be publicly available.
How to participate in the survey: If you are an actor linked to the marine and coastal environment and you wish to participate in the study, please fill in the following form and we will send you the survey according to your profile: https://forms.gle/Vxw92gM9s6ZnPNZbA
This work is conducted by Lotta Kluger, María Garteizgogeascoa, Isabel Gonzales and Leslie Odar, as part of the Humboldt Tipping research project.
If you have any questions about the study, please do not hesitate to contact Dr. Lotta Kluger (lotta.kluger@uni-bremen.de) or María Garteizgogeascoa (garteizg@uni-bremen.de).
New Humboldt Tipping short clip on youtube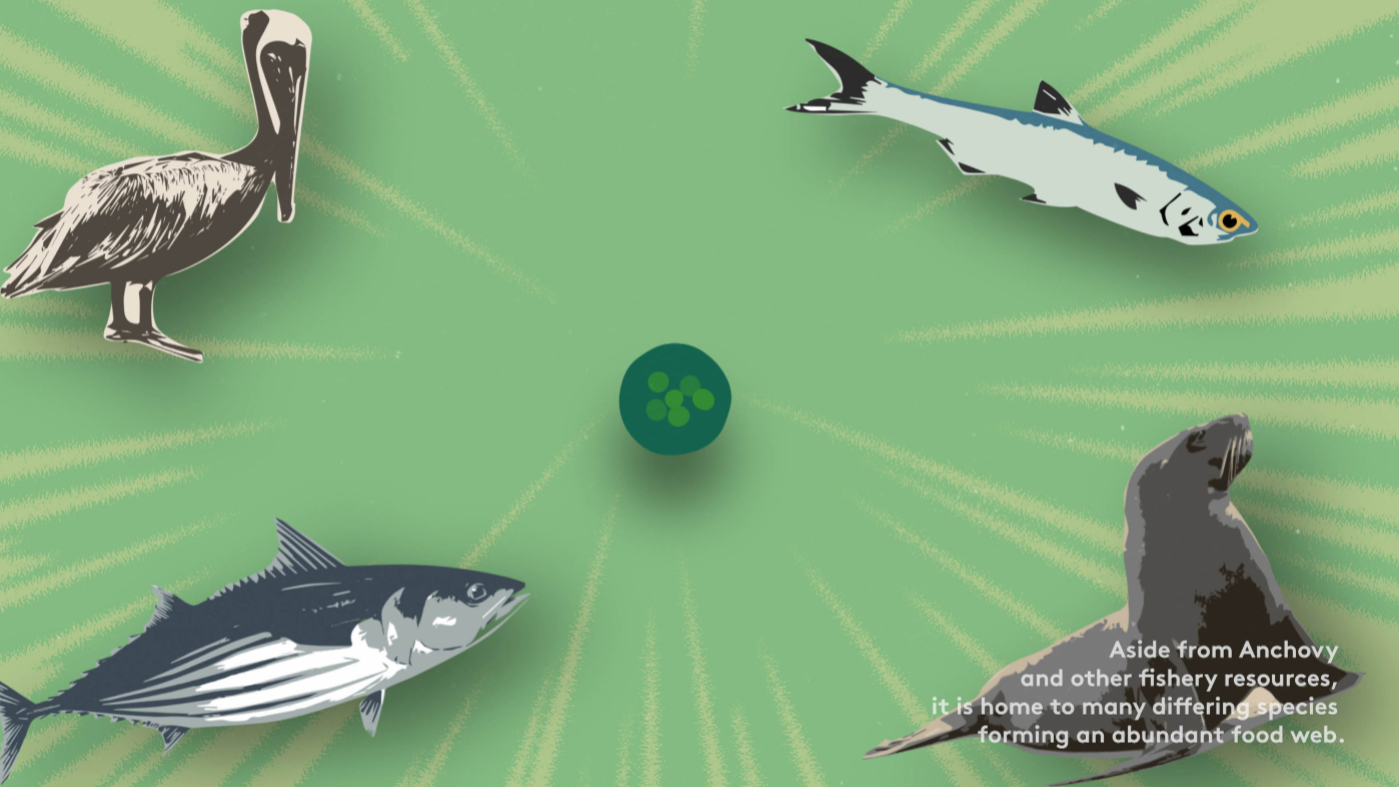 Different players in the food web of the upwelling system of the Humboldt current.
Using scientific models to understand ecosystem changes in the Humboldt Current
Scientists want to understand the changes in marine ecosystems which the future will bring. They are testing these future scenarios not in the actual ocean, but with computer models. These models can be used to simulate the mentioned changes and can help in developing suitable adaptation measures. This way, scientists can work hand in hand with local fishers, communities and other professionals to help protect and sustainably use the ecosystem in the future.
Finde the movie on our youtube channel in a Spanish, English and German version:
https://www.youtube.com/channel/UCNKpvVpJs3yjoQFVTyipwwg/videos
For further information please contact:
Center for Ocean and Society
Christian-Albrechts-Universität zu Kiel
Neufeldtstraße 10
24118 Kiel
Germany
Networks – more than the sum of their parts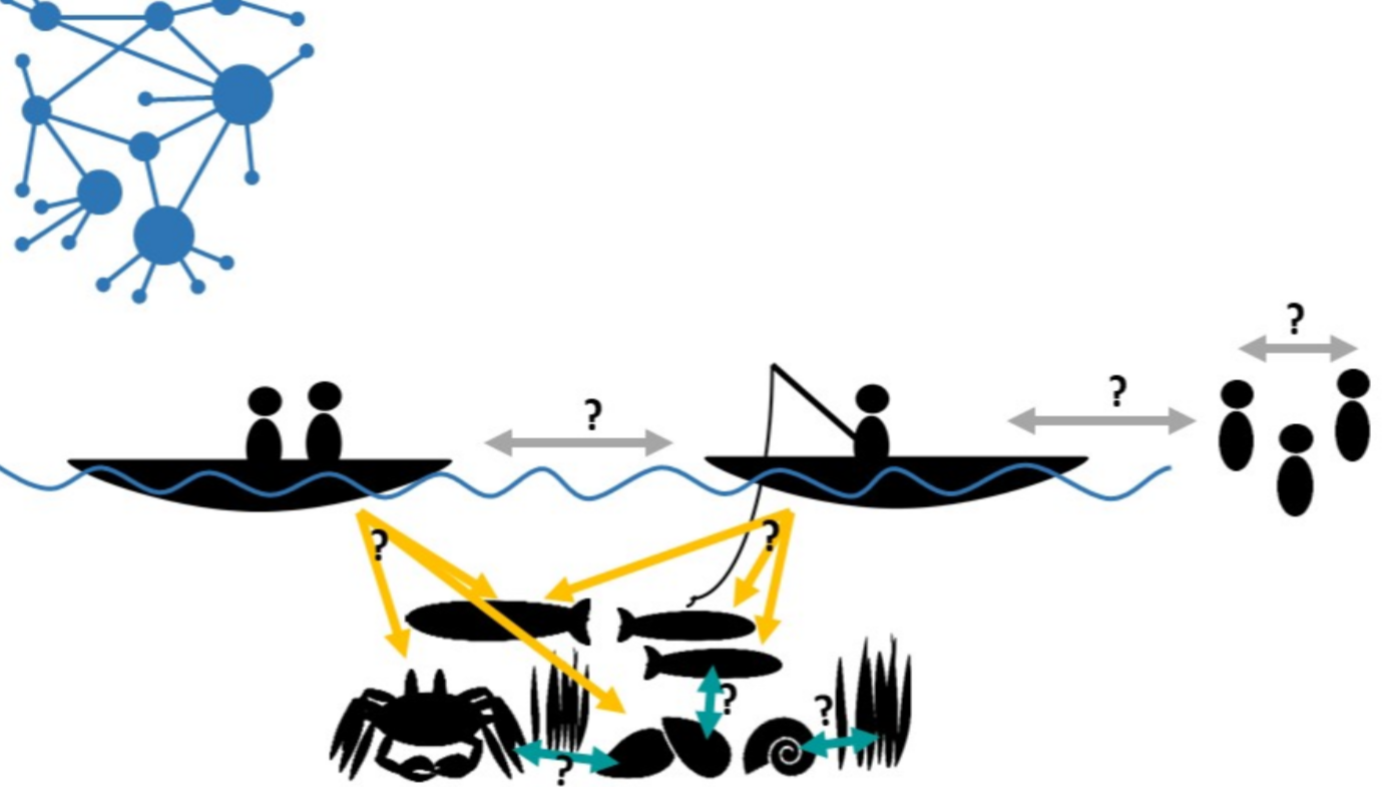 Fishers targeting different marine species is a typical example for human-nature interactions that may be described through a network analytical approach. If we do not only consider fisher-fish interactions, but also include fish-fish and fisher-fisher connections in the network conceptualization, we arrive at a social-ecological network. (Figure credits: constructed by Lotta Clara Kluger)
Understanding the complex interlinkages between humans and nature
In this work, we look at how social and natural scientists have used a particular tool – network analysis – to explore and understand social-ecological systems. Network analysis is the study of a system represented as its discrete members: individuals or groups of people, biological species, or ecosystem patches. The network emerges when the interactions among these entities are identified and illustrated. Interactions can be, for example, collaboration, exchange of information or money, selling of a resource such as a fish, active movement of animals, or passive transport of pollen. Many scientists use network structures to understand how interactions shape system dynamics and processes to identify key actors or vulnerable points.
Network analysis has been used in a wide range of settings, though – it seems – each researcher uses their own vocabulary to describe the different network parts. However, using consistent language helps to communicate, to compare, and to join efforts. This is why we wanted to systematize the existing research according to how authors conceptualized networks to describe human-nature interactions. Were only humans considered, only ecosystem parts, or both? Based on the degree to which both realms (society and nature) are integrated in the analysis, we propose three categories of social-ecological networks: From Type I, networks looking at only one realm (society or nature), to Type III, integrating actors from both realms (society and nature) and all interactions therein. Our results show that there are many different ways of constructing a network describing a social-ecological system, but that increasing complexity (Type III networks) imposes methodological challenges. Selection of the appropriate network type should be based on the question at hand. Our aim was to provide a broad overview that should help to discuss benefits and drawbacks of the different means of conceptualizing a social-ecological network. Thus, a research team wanting to construct a social-ecological network for their particular setting can draw from our experience and find guidance in the jungle of terminology and concepts.
The original publication:
Kluger LC, Gorris P, Kochalski S, Müller MS, Romagnoni G (in press). Studying human-nature relationships through a network lens: A systematic review. People and Nature DOI: 10.1002/pan3.10136
https://besjournals.onlinelibrary.wiley.com/doi/epdf/10.1002/pan3.10136
Plain language summaries in German, English and Spanish you can find here:
https://besjournals.onlinelibrary.wiley.com/action/downloadSupplement?doi=10.1002%2Fpan3.10136&file=pan310136-sup-0001-Summary.pdf
https://besjournals.onlinelibrary.wiley.com/action/downloadSupplement?doi=10.1002%2Fpan3.10136&file=pan310136-sup-0002-SpanishSummary.pdf
https://besjournals.onlinelibrary.wiley.com/action/downloadSupplement?doi=10.1002%2Fpan3.10136&file=pan310136-sup-0003-GermanSummary.pdf

For further information please contact:
Leibniz Center for Tropical Marine Research (ZMT)
WG Ressource Management
Fahrenheitstr. 6
28359 Bremen
Germany
lotta.kluger@leibniz-zmt.de
Tel. +49 421 238 00-42
On the move: The role of mobility and migration as a coping strategy for resource users after abrupt environmental disturbance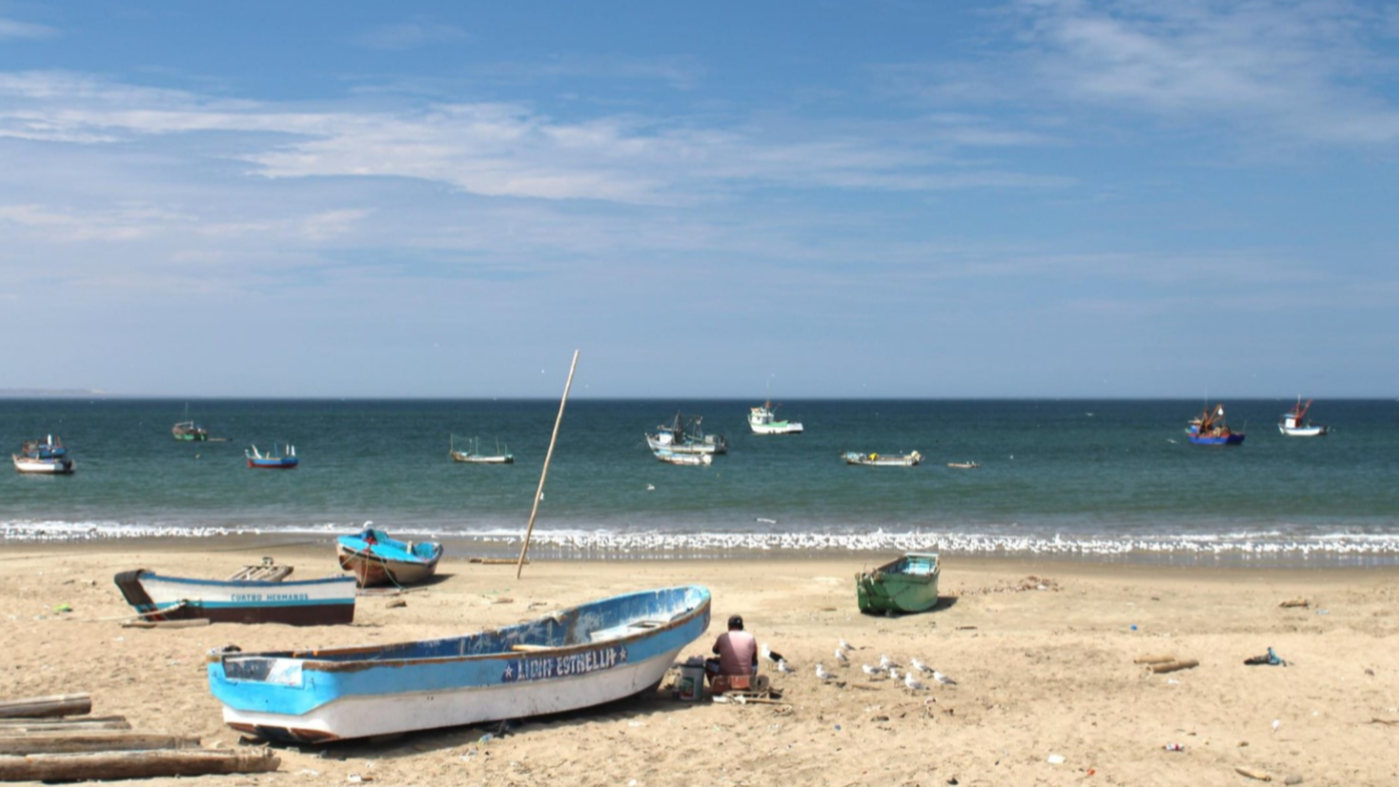 Artisanal fishing boats in Sechura during data gathering for this publication. Image: Lotta C. Kluger
The empirical example of the Coastal El Niño 2017
With a particular emphasis on the province of Sechura, this work attempts to shed light on how and why migration flows differ for fishers and scallop farmers and to explore future pathways in the context of post-disturbance recovery. About one year after the disturbance event, the small-scale fishery operated almost on a regular scale, while the aquaculture sector still struggled towards pre-El Niño conditions, reflected, for example, in a higher percentage of persons engaging in other economic activities within and outside the region.
The results of this study demonstrate the importance of human movement and translocal social networks emerging in moments of crisis and should be considered for future development of long-term management strategies incorporating increasing interconnectedness of places on different scales in the face of future disturbance events. Understanding adaptation strategies of resource users in this particular social-ecological setting will further serve to inform other coastal systems prone to (re-occurring) environmental change by highlighting the diversity of socio-economic and natural drivers that can stipulate mobility and affect adaptive capacity of resource users.
For more Information please contact:
Dr. Lotta Kuger
Leibniz Center for Tropical Marine Research (ZMT)
WG Ressource Management
Fahrenheitstr. 6
28359 Bremen
Germany
lotta.kluger@leibniz-zmt.de
Tel. +49 421 238 00-42
The publication can be found here.
Health crisis and small-scale fishing: infrastructure, outbreaks and vectors
Progression of COVID-19 infections in Pisco and Sechura from April 1 to May 2, 2020. Source: DIRESA Ica, DIRESA Piura. Own elaboration.
A representative case is that of DPA José Olaya Balandra in the district of San Andrés, the main landing and collection center for Pisco and the supply point for the Villa María del Triunfo and Ventanilla Fishing Terminals in Lima. At the beginning of April, four middlemen from San Andrés tested positive for COVID-19. According to the count of the cases, the infections were reported in the Villa María del Triunfo Fishing Terminal. It is worth noting that, a month after this episode, San Andrés has the highest number of infections in the province: 41 cases out of a total of 111.
As a preventive measure, four DPAs in Pisco5 were closed for the whole month of April; six DPAs6 in Arequipa frequented by traders from San Andrés were closed for a week; and the Villa María Terminal was closed for fifteen days for the disinfection of infrastructure and the implementation of protocols for the prevention of COVID-19. As a result, the supply of hydrobiological resources to the city of Lima was interrupted for two weeks, but even after the service was restarted, the volumes of sales have not recovered.


In Pisco, the necessary closure of the DPAs, accompanied by operations to prevent unloading in areas that are not allowed, has paralyzed the activity of thousands of fishermen, longshoremen, marketers, transporters and processors, who have not been receiving income for a month. In Sechura, where the DPAs are still operating, but the health services have demonstrated their precariousness, the fishermen have voluntarily suspended their work to avoid contamination. Although DPA José Olaya is awaiting its next reopening, a sector of the population is opposed to it for fear that it will become a focus of infection.
At the beginning of April, SANIPES published a guide detailing the measures to be implemented in the fishing infrastructure to prevent the spread of COVID-19. However, the guide does not consider clear actions with respect to the transport units, whose agents have greater mobility and are the point of contact between fishing towns and areas of agglomeration such as the fishing terminals. It is necessary that the DPAs have measures that guarantee the sanitary conditions of their users, this is more urgent in remote areas where access is complicated and health services are precarious or non-existent.
Sanitary conditions in and between transport units should be regulated and contact between traders and transporters should be moderated. This requires that control measures be extended beyond the margins of the fishing infrastructure and static trade agents. It is recommended, for example:
Establish strict distance measures between chambers and restrict the movement of traders and transporters both inside the DPAs and Fishing Terminals, and in the parking lots and surroundings where commercial activity usually spreads.
Control the temperature of transporters and merchants when entering the DPAs and fishing terminals.
Carry out COVID-19 screening campaigns aimed at traders and transporters in the DPAs and fishing terminals. This should include not only resident merchants but also visitors who could be carriers.
Promote the use of bank transfers per application for transactions between merchants/transporter and merchants in the wholesale and retail markets, and thus avoid hand-to-hand contact and handling of money.
Encourage the participation of members of artisanal fishers' organizations in monitoring and surveillance activities in the fishing infrastructures they manage.
Looking back at the first collaborative field work phase of WP7 & 5 in Peru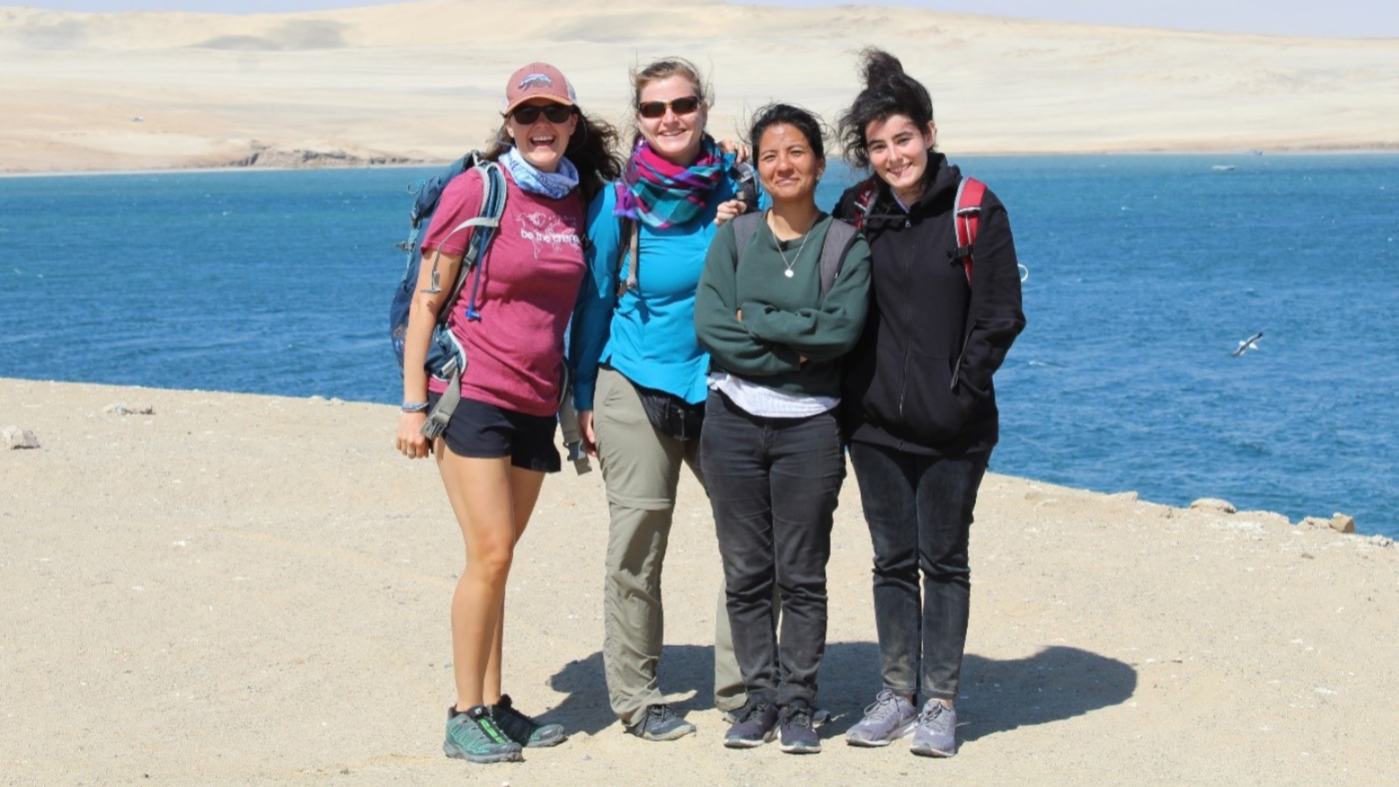 Part of the team in Laguna Grande (Independencia Bay) in November 2019. Picture taken by Coyote (Luis Delgado from IMARPE) who very kindly inform us about the Bay with great enthusiasm.
Notes from the field: Looking into the Future, adaptive strategies and governance.
In addition, the team also conducted qualitative research to characterize the marine-costal governance regime of the areas. The selection of the field sites was based on previous German-Peruvian collaborative projects and the importance of artisanal fisheries, aquaculture and tourism activities taking place. More specifically, a central workshop was held in Lima aiming at identifying the social perceptions on how the Northern Current Upwelling System could look like in 20 years in the context of changing environmental and socio-economic factors such as pollution, coastal use and population, social organization and environmental variability. In addition, for the resulting images about the future, challenges and conflicts among and for the different spheres (public policy, research, civil society) were explored. Finally, the participatory process was used also to explore different understandings of the sustainability of the MSES (Marine Socio-Ecological Systems).
Once in the regions (the Bays of Sechura and Independencia), the team aimed at exploring the imagined futures in Lima at a regional scale to more specifically assess how marine and coastal activities have been (and are being) threatened by environmental and socio-economic drivers in recent years. Furthermore, the adaptive capacity of the communities to changes was also explored.
The results of the research will be available in April through a report that will be published online and diffused throughout the communities. The team wants to gratefully thank all the participants who very kindly collaborated with us and is looking forward to build on this work in the following fieldwork phases about to come.
Humboldt Tipping participating at 35th Ecopath with Ecosim (EwE) Anniversary gathering in Florida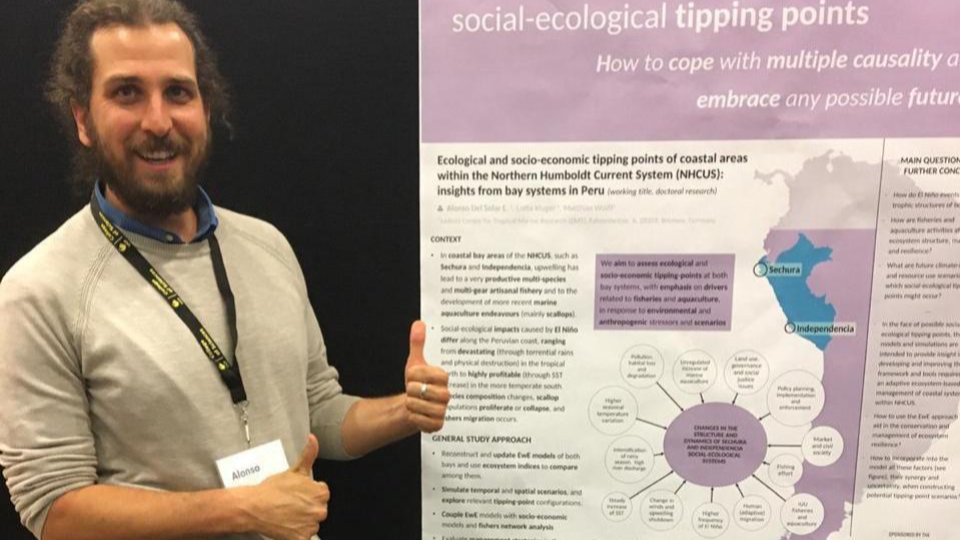 Alonso del Solar at the 35th Ecopath with Ecosim (EwE) Anniversary gathering in front of his scientific Poster. Image: Alonso del Solar
Ecological and socio-economic tipping points of coastal areas within the Northern Humboldt current System
He also works on questions related to fisheries and aquaculture activities affecting ecosystem structure, maturity and resilience in coastal bay areas of the Northern Humboldt current System, such as Sechura and Independencia. In both bays, upwelling has led to a very productive multi-species and multi-gear artisanal fishery and to the development of more recent marine aquaculture endeavours, mainly scallops.
Alonso´s study approach includes reconstructing and updating EwE models of both bays, and use ecosystem indices to compare them, to simulate temporal and spatial scenarios, and to explore relevant tipping-point configurations. Furthermore, he will couple EwE models with socio-economic models and fishers network analysis to evaluate management strategies in the context of tipping points.
Even though the data is still underway, he was able to present and discuss the main questions and ideas related to his PhD thesis and to the Humboldt-Tipping Project itself to an interested community of conference attendees and organizers.
For more information, please contact:
Alonso del Solar
alonso.delsolar@leibniz-zmt.de
Celebrating the 250ties birthday of Alexander von Humboldt at Goethe Institut in Lima
Alexander von Humboldt vor Chimborazo, detail lithograph of Carl Wild after Painting of Karl J. Begas.
Following an invitation of the German Embassy in Lima
While Guevara focused on the description of the Peruvian ecosystem and how Humboldt got to know and measure the water temperatures, Wolff discussed questions related to the scientific work and societal impact that von Humboldt had during his times and beyond, reflecting on hypothetical recommendations that he would give to young scientists if he would still be alive.
A remarkable audience consisting of students, IMARPE colleagues, ambassadors, members of the Goethe Institute and many other interested people had shown up to enjoy this two hours event reflected in a lively discussion afterwards. It became quite evident that Alexander von Humboldt and his remarkable scientific work continues to be of great interest to many Peruvians and those working around Peruvian coasts.
In the morning of the next day, an homage for Alexander von Humboldt was celebrated through a visit and reception at the research vessel 'Humboldt' in Callao. The German Ambassador and his group, Prof. Matthias Wolff and the IMARPE director Dr. Renato Guevara and his staff participated. Besides several presentations given by the captain, the IMARPE director and the ambassador, a medal was handed over to the IMARPE director by the ambassador in memory of Alexander von Humboldt and the fruitful collaboration in marine research between Germany and Peru over the past decades. The Humboldt Tipping Project was mentioned as an important current collaboration project.
Start of the new research project on investigating tipping-points in Peru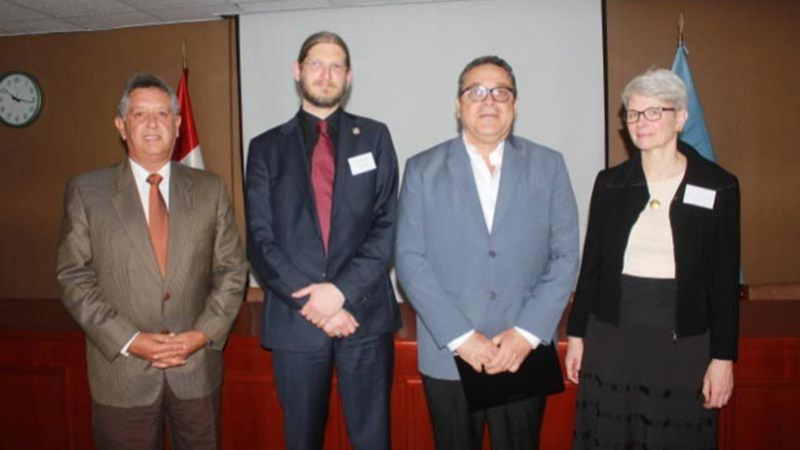 Kick-off meeting in Lima (from left to right): Javier Gaviola (President of the administrative board of IMARPE), Jörn Schmidt (Coordinator Humboldt-Tipping, Kiel University), Javier Atkins (Viceminister for Fischeries and Aquaculture) and Cornelia Andersohn (Project Agency Deutsches Zentrum für Luft- und Raumfahrt, DLR).
International kick-off meeting together with the Peruvian partners in Lima from March 19 to 21
The main goal of the project is to assess the risk of decreases in marine ecosystem productivity as a tipping point for the interlinked ecological, economic and social systems of the Northern Humboldt Upwelling System (HUS). One focus of the project is the pelagic, off-shore system supplying the industrial Peruvian anchoveta fishery and its regional and global repercussions through export to international markets. The second focus are coastal and insular (Galapagos) systems, where artisanal fisheries, aquaculture and ecotourism are key maritime activities for provision of livelihoods. The project will improve the understanding of feedbacks between ecological, social and economic dynamics in the HUS with input from different user groups. The transdisciplinary project will integrate scientific approaches with local and traditional knowledge to improve the implementation of research results.
Kickoff Humboldt Tipping Project in Kiel and Lima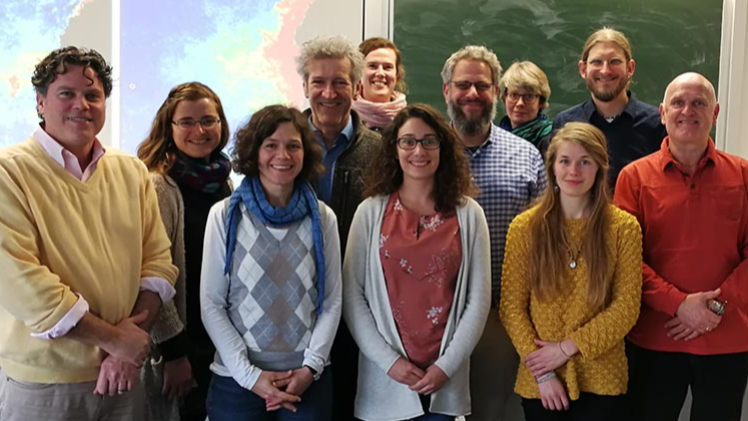 German partners at the pre-kickoff meeting of the Humboldt Tipping Project in Kiel. Photo: F.Tirre
At the Beginning of March the German project partners of the Humboldt-Tipping project came together in Kiel for a small pre-kick-off meeting
The aim of the Humboldt-Tipping-Project is to investigate shifts in the productivity of the marine ecosystem in the northern Humboldt Upwelling System (HUS) and the resulting social and economic impacts. One focus of the project is the pelagic, off-shore system supplying the industrial Peruvian anchoveta fishery and its regional and global repercussions through export to international markets. The second focus are coastal (Piura and Pisco) and insular (Galapagos) systems, where artisanal fisheries, aquaculture and ecotourism are key maritime activities for provision of livelihoods. The project aims to improve the understanding of feedbacks between ecological, social and economic dynamics in the HUS with input from a broad variety of stakeholders.